Off The Bawl - 1 May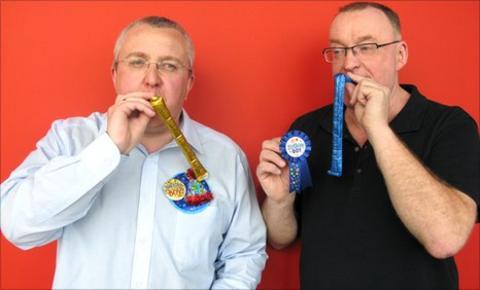 Greeeeeetings!!! On this week's Off The Ball ("the only institution of any value and integrity left in Scottish football" according to a very wise listener called Rodger Caldwell) we were joined by the author and St Mirren fanatic Christopher Brookmyre and the former Hearts and Scotland striker Kevin Kyle.
Once upon a time, Kevin was a baggage handler on the Stranraer ferries, while Stuart Cosgrove was a handy-man at Butlin's and Tam Cowan was a window cleaner, so we discussed the strangest job you've ever had.
Kevin was handed his international caps by the one and only Berti Vogts and, understandably, the big man won't hear a word against the former Scotland boss. So, we challenged listeners to defend the indefensible.
We also had a cracking Team of the Week - The Bedroom XI - and, as a wee Brucie bonus, we've chucked in a bit of correspondence from the Off The Ball Sunday Supplement.
So, here's another selection of the most petty and ill-informed texts and emails on radio...
STRANGE JOBS
Hugh in Aberdeen said: "I used to work in Debenham's and once spent a full day in ladies' lingerie."
Karen in Inverness said: "Whilst working as a teenager in Greece in the early 80s, I got a job polishing cucumbers!"
On a similar theme, Peter Burns said: "I applied for a job in a book shop that insisted workers must be over 18. I spent my first day washing dusty strap-on willies..."
Derek Stores in Edinburgh said: "I was a 'jumper ooter' in Edinburgh. In other words, I was employed to jump out on people (while dressed as an auld woman) on the ghost walks near the castle."
DEFENDING THE INDEFENSIBLE
Doogie fae Leith said: "Even though I'm a Hibs fan, I'm defending Wallace Mercer because he galvanised and united our supporters against his attempted takeover of our club. Glory glory we're the Hibees!"
Neil from Sauchen said: "I would like to stick up for Craig Whyte. I think he's done a great job of running Rangers into the ground." (No prizes for guessing what team Neil supports.)
TEAM OF THE WEEK
The Bedroom XI
(aka Manchester-drawers United)
Manager: Dozy Mourinho
Assistant: Harry Bed Nap
1/ Neglishay Given
2/ Evander Snore
3/ Tommy Springs (c)
4/ Bert Ottaman
5/ Frank Lamp-ard
6/ Pillow Flood
7/ Jose Quilt-ongo
8/ Henrik Pyjama
9/ Peter Crouch (he's a tallboy)
10/ Eider-down Gudjonsson
11/ Mattress Le Tissier
Subs: Andy Sleepwalker, Stevie Futon, Duvet Cooper
The mere mention of Willo Flood started a debate on who the Dundee Utd midfielder looks like.
Baz from Dundee said: "Willo Flood IS Tintin. End of story."
Anon said: "Willo Flood is Jasper Carrott's long-lost son."
And David in Newburgh said: "I reckon he's the absolute double of Stewie, the baby from Family Guy."
AND FINALLY...
The song that played us out? Well, as a tribute to Chelsea skipper John Terry who kneed a Barcelona player from behind just months after getting caught doing the dirty on former team-mate Wayne Bridge, we finished with the old O'Jays classic Backstabbers...
PS. Our guest on this week's Sunday Supplement was Richard Wilson. I don't believe it!!!
Nah, it wasn't Victor Meldrew from One Foot In The Grave. We were actually joined by his namesake from the Sunday Herald.
But what other potential A-listers were listening to the show?
Well, we got an email from a Jackie Collins in Paisley - not a soft porn novelist, but a social work employee.
We also heard from a gentleman who asked: "Why is it people seem so exasperated by me?" That came from a Mr Gordon Bennett.
Finally, a text that read: "I have the same name as Diego Maradona. Cheers lads, love the show, Gordon Ramsay."
To join in the fun on this Saturday's show, call 0500 929500, text 80295 or email offtheball@bbc.co.uk
Listen to the most recent Off the Ball programmes.
Download the latest Off the Ball podcast.