Rangers bidder Miller given 'comfort' over sanctions, understand administrators
Last updated on .From the section Football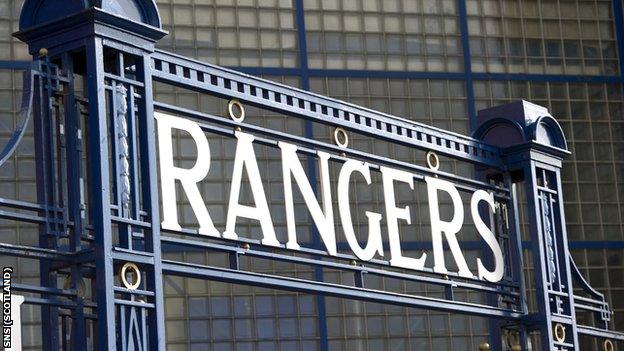 Rangers' administrators say they understand Bill Miller has been given assurances that the club will continue in the Scottish Premier League.
The American businessman has been granted preferred bidder status and hopes to complete his takeover by the end of the season.
He aims to form an "incubator" company that would see the assets of Rangers transferred to a new firm.
The SPL said that they would continue talks with Miller.
Miller's initial bid was dependent on the Scottish football authorities not imposing further sanctions on the club. But Duff & Phelps now describe the offer as "unconditional".
And joint administrator Paul Clark told BBC Scotland: "Mr Miller felt comfortable enough to be able to remove the conditionality from his bid, so he clearly feels he has the comfort to move forward."
When pressed on whether Miller had been told Rangers will remain in the top flight, Clark replied: "It's my belief that that is one of the assurances he has received, yes."
Any newco club would need to request permission from the SPL board to acquire Rangers' share in the competition.
Miller's plans would have to be completed by 13 May, the last day of the SPL season, assuming the league's proposed financial fair play rules are changed for the following campaign.
The "incubator" idea would leave an "old company" saddled with the club's debts and aiming to deal with its creditors via a Company Voluntary Arrangement [CVA].
Clark explained that the two entities would later reunite, saying he thought it was an "entirely workable strategy".
He also revealed that Miller's bid was "substantially greater" than the rival offer from the Blue Knights consortium led by former Rangers director Paul Murray and backed by Sale Sharks owner Brian Kennedy.
He added that it would provide "a stable platform" for the club and provide the best return for creditors.
Clark said that Miller's bid "avoids the need for liquidation" but could not rule out that possibility, which could arise if a CVA is not agreed.
"We are making sure the football club stays alive and we will continue conversations with creditors... [a CVA] could be some months away."
Clark also explained that Craig Whyte, who bought Rangers for £1 last year, would receive nothing from Miller, saying it was "not necessary to get his approval".
Rangers are facing a 12-month transfer embargo, pending an appeal against the Scottish FA-imposed penalty.
And given PFA Scotland believe players are not legally obliged to join a newco, Miller may struggle to assemble a squad.
Uefa also insist clubs are members of national associations for three years before they are allowed into European competition.
Miller has, meanwhile, pledged to end the culture of over-spending at Ibrox.
"Under my stewardship, Rangers will be managed with fiscal discipline such that the club not only conforms to Uefa financial fair play regulations but also such that Rangers will never have to suffer this kind of anguish again," he said in a statement.
"From now on, Rangers will live within its means - no excuses."
Sections of the Rangers support have voiced opposition to Miller's proposed takeover.
However, following Wednesday's 5-0 win over Dundee United manager Ally McCoist said: "I think everybody has got to be given a chance, whether it's Bill Miller or whoever it may be.
"We would all be wrong to sit and be judge and jury immediately before anything could happen.
"I don't think we are in a position other than we have to be supportive of somebody that will hopefully come in and take the club forward.
"People will have their own opinions on things and ideas of who they want.
"But, from within the club, we just want somebody who will come in and give us a little bit of stability again and hopefully take the club forward."