Leon McKenzie aims to counsel fellow footballers after prison
By Jefferson Lake
BBC Sport
Last updated on .From the section Football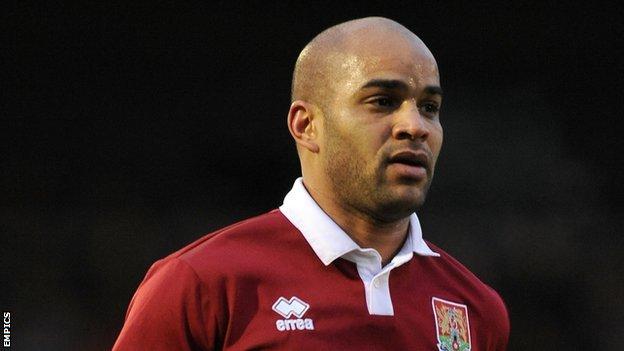 Former Premier League striker Leon McKenzie is hoping a recent spell behind bars will help him provide counselling to professional sportsmen and women going through the kind of hard times he has experienced during an extraordinary life in football.
On 9 April 2005, McKenzie scored a goal for Norwich City against Manchester United at Carrow Road that is still talked about by the club's supporters.
The goal, a superbly executed volley from 12 yards, provided a moment of defiance and glory for a team whose fight to retain a seat at English football's top table was ultimately futile.
Seven short years and countless life experiences later, McKenzie - who also scored goals for Crystal Palace, Peterborough, Coventry and Northampton - found himself at the category A Woodhill prison, washing dishes for pocket money after being sentenced to six months for motoring offences.
Two years previously, the now-retired striker had forged letters to the police in a bid to avoid a driving ban after picking up six charges of speeding, and, after a lengthy trial, was given a custodial sentence.
It represented the latest twist in a life story that has been full of incident. McKenzie was a father at 19, and went through a divorce and lost his sister while attempting to maintain a career as a professional sportsman.
He attempted taking his own life in 2009. Injuries, loneliness and the weight of his problems hung heavy on his shoulders.
The attempt - fortunately - failed, and after seeking help for what was a case of clinical depression, McKenzie began to move on with his life.
A long-standing knee injury ended his football career but he took the first steps in a music venture, having recorded a single with Harvey, when his trial was concluded and the sentence passed down.
The prison experience, he feels, has added to his ability to undertake another string to his post-football bow, counselling current players through the Professional Footballers' Association.
It was also not as problematic as a former sportsman who once earned tens of thousands of pounds a week might have expected it to be.
"When I walked into prison, I thought I would have a lot more problems than I had," he said. "I didn't think I would have any respect from anyone in there.
"The officers treated me fantastically and that was very calming. I needed that - I was walking around with murderers and rapists day-to-day and I'm in there for a driving offence.
"I did what I had to do, I did my time. I wasn't sure how I would be received. The first couple of days were tricky, emotionally.
"But I had so much respect in there from people all over. I don't want to say too much but there were people in there who looked after me.
"I don't really want to say I'm associated with those people, let's be honest, but I was looked after."
McKenzie's work with the players' union is in its infancy and there remains an unwanted stigma attached to sportsmen who speak out about depression.
It is too easy to look only at the high salaries and lavish lifestyles, ignoring the huge amount of time spent away from family members or out of the team for whatever reason - McKenzie's lowest point came when he was with Charlton, living in a hotel and struggling for fitness.
The hardest part, he feels, is speaking out. Warning signs are difficult to spot and the dressing-room environment does not lend itself to any admittance of what could be perceived in the peer group as a weakness.
But McKenzie is hoping he can play a part in altering the landscape, either through the union or another charity.
"I've been doing quite a lot with the PFA in terms of making it better at helping people who are suffering what I suffered," he said.
"We want to make sure people speak out when they're starting to feel a bit off-ish because so many footballers have called me up and told me they admire my strength for speaking publicly about these issues.
"They've told me they're having the same sort of struggles too and have asked me what they can do, who they can speak to.
"I want to set up a charity or a foundation that would help people in sport who are going through the sort of things I went through.
"I've played at the highest level. I've had money, I've lost money. I've been divorced and I've been to prison so it's been a real up-and-down life. Now I want to give something back."