Dover Athletic boss Nicky Forster lets eight players go
Last updated on .From the section National League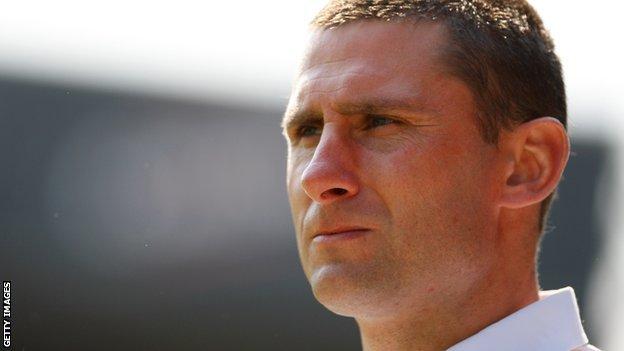 Dover Athletic have released eight players just three days after their season ended.
The club have not renewed the contracts of Mikhael Ruiz, Ed Harris, Michael Noone, Jemal Johnson, Donovan Simmonds, Phil Starkey and James Walker.
Striker George Purcell, who had a year left on his contract, agreed to leave the Crabble by mutual consent.
A club statement said: "We would like to thank all the players and wish them well for the future."
The club have offered contracts to Shane Huke, Michael Corcoran, Lee Hook, Billy Bricknell, Steve Watt, Glen Southam, Barry Cogan and Tom Axford.
They have been given a deadline of Friday 11 May to accept the deals.
Manager Nicky Forster, who joined the club in September, said he had been mulling over his squad for some time.
"We're in a results business so when results don't go your way, all you do is sit there and analyse," he told BBC Radio Kent.
"It's not a case that I've not had time to sit and think about what I want to do and how I want to achieve it. I've been thinking about it all the time.
"Now is the moment when I can just start putting that into plan."
On the new faces that might be appearing at the Crabble, Forster added that it was a case of bringing the right players in rather than the right-now players.
"Sometimes you bring players in from league clubs and the transition is so great they find it difficult to adapt.
"We've certainly got a list of targets that we're looking for."