Glentoran chairman Brannigan aims to clear £500,000 debt
Last updated on .From the section Football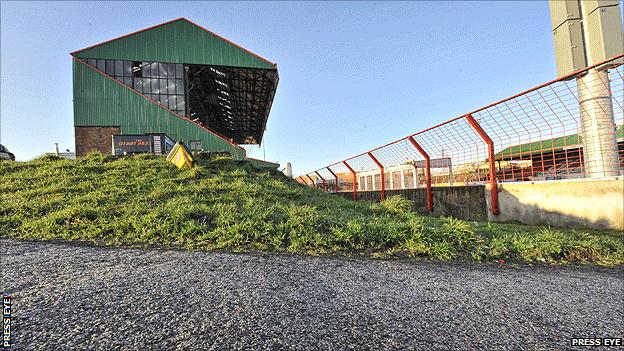 Glentoran chairman Terence Brannigan hopes to clear the club's £500,000 debt in the next 12 months.
Brannigan revealed his plan, believed to be contingent on selling the Oval and moving to the Titanic Quarter, at the club's AGM on Thursday night.
Players and staff were not paid for the month of April and Glentoran have asked the Irish FA for a cash loan.
The Glens avoided being wound up last year thanks to a donation of around £450,000 from a mystery benefactor.
Glentoran needed that money to pay debts which included a huge tax bill.
Despite a closing 2-0 victory over champions Linfield, the Glens missed out on European football for next season which was another financial blow for the club.
Glentoran previously had difficulties paying wages in July 2010.
The £450,000 payment from the mystery benefactor helped bail out the club in February 2011.
Last year, the Irish FA lent £233,000 to a number of Irish League clubs which was in effect an advance of prizemoney up to May of next year.
BBC Sport understands that on this occasion, Glentoran are asking for either an advance of prize money for 2014, or else a straight loan from the Irish FA.