Kenny Dalglish values Liverpool cup wins over fifth place in league
Last updated on .From the section Football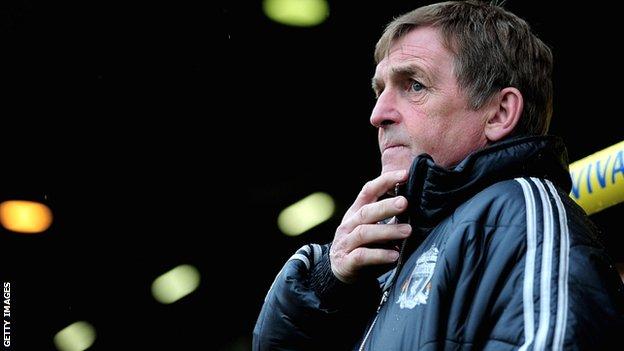 Liverpool boss Kenny Dalglish says he would be more satisfied by winning two cups than being fifth in the league.
The Reds, who won the last of their 18 league titles in 1990 during Dalglish's first reign, are eighth in the Premier League, 34 points behind the leaders.
"There is an obsession with the Premier League," said Dalglish, whose team are seeking a League Cup and FA Cup double.
"But there's satisfaction from winning a cup that you don't get from finishing fifth or sixth in the league."
Liverpool won the then-Division One title seven times in 10 seasons during the 1980s but have failed qualify for the Champions League in the last two seasons, finishing seventh in 2010 and sixth last year.
Defeat by Fulham on Tuesday night was their fourth at home this season and took their total of points dropped at Anfield to 30 this season.
Dalglish, who replaced Roy Hodgson as manager in January last year, ended the club's six-year wait for silverware by securing the Carling Cup with victory over Cardiff on penalties in February. And they face Chelsea on Saturday in the FA Cup final.
"Any competition you enter you want to do the best you possibly can in," said the 61-year-old Scotsman.
"In the league it is 38 games and at the end you finish in a position which tells you how successful it has been.
"We have already tasted a cup final this year, albeit the Carling Cup, and getting to the FA Cup final should never be under-estimated in any way.
"It is a fantastic day out for everyone and is great reward for the efforts and commitment of the players and the respect we have paid to the competition.
"The season will be assessed when it's finished."