Mulgrew confident Celtic are ready for Champions League
Last updated on .From the section Football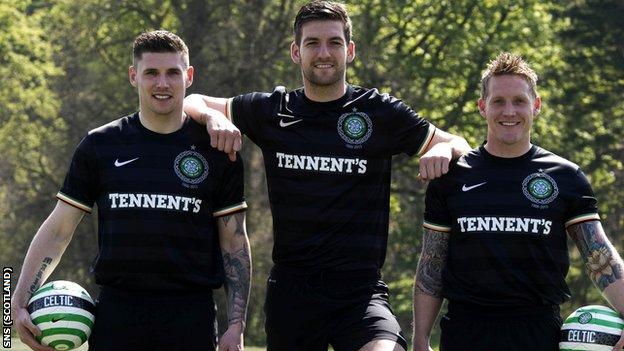 Celtic do not need a raft of new signings to have a successful Champions League campaign next season, according to Charlie Mulgrew.
The Scotland defender says manager Neil Lennon can rely on his current squad to make their mark in Europe.
"Last year we proved in a tough [Europa League] group that we can compete in Europe," said Mulgrew.
"Spending a lot of money on a player doesn't necessarily mean it's going to work out for you."
Having won the Scottish Premier League title for the first time in four years, and with rivals Rangers facing an uncertain future, making the group stages of the Champions League is Celtic's priority.
"I think it's important we do everything we can to prepare for the Champions League qualifiers, that'll be massive for everybody here," Mulgrew commented.
"We'll look to do better than this year. Next year we'll look to win the league again, and a run in the Champions League would be great, but first we have to prepare right and qualify.
"If we believe in ourselves and prepare right, then we can [qualify]. We just need to see who we get drawn against and take it from there."
Celtic boss Lennon spoke on Tuesday of making changes to his squad in the summer, with as many as five departing the club, and possibly two or three new signings coming in.
Mulgrew is adamant that only minor changes are needed to the current squad to bring more success to the club.
"There's plenty of quality in the changing room at the moment," he added. "Time will tell if it's enough to get us through to qualify for the Champions League.
"I'm sure the manager will look to bring one or two in, but that's up to him.
"I'm sure the manager will get that balance right. The scouting team is second to none here, and I'm sure he'll work alongside them and they'll get the best players at the best prices."
The former Aberdeen and Wolves man is the favourite for the PFA Scotland player of the year award after enjoying a terrfic season, and says it would be a dream come true to win.
"It would be great, I'd be delighted," he said. "Just to be nominated is brilliant.
"It's been a great season on a personal level, and, to win the league as a club, it's massive.
"It's definitely been a good season for me."