Bulls may have left it too late to bring in O'Kelly, says Keyte
By Ged Scott
BBC Midlands Sport
Last updated on .From the section Football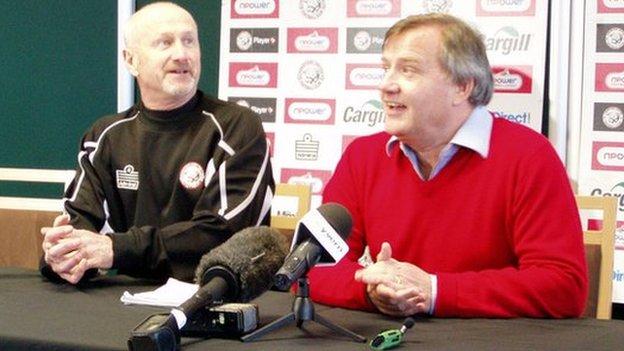 Hereford United chairman David Keyte admits that the Bulls may have left it too late in making their late-season change of management at the relegation-threatened League Two club.
Richard O'Kelly came in on 5 March to replace Jamie Pitman, after which the Bulls won just once in 10 games.
But Saturday's 3-0 win at Crawley suggests O'Kelly is having an effect.
"We probably should have made changes earlier, rather than leave it to the last 12 matches," said Keyte.
"With hindsight, the sorts of things that some of the experts out there will claim to have said all along have probably come true, in terms of the lack of experience around the club and the football management.
"But people have to accept that Richard O'Kelly, the fans' favourite, had not actually been the manager of a club before and that it was still a bit of a gamble.
"And don't forget he was not dismissed at Doncaster until November. It's not as if he should have been the man all along, if it comes through that he is the right man now. I've had many conversations, even with Richard, and it hasn't improved drastically.
"But there are many factors in that. You've got the squad you've got and everybody's done as good a job as they can."
O'Kelly, 55, took on his current short-term role with the Bulls after a four-month spell back on the coaching staff at his old club Walsall following his dismissal by Doncaster Rovers in November, along with manager Sean O'Driscoll.
And the former Walsall, Port Vale and Grimsby striker would obviously be asked to stop on at Edgar Street if Hereford save their skins by beating Torquay on Saturday, while hoping that Barnet fail to win at Burton.
But, while there is a possibility that O'Kelly could still lead Hereford if they return to the Conference, the one guarantee already made by the Bulls board is that he will not have so many henchmen around him.
"Depending on what league we're in will determine the size and shape of not only the management team but the playing squad," added Keyte.
"We said on the day that Richard O'Kelly started that the decision was taken not to rock the boat for the team and that results were of paramount importance. But, from the outside, to have five bodies around the management set-up is crazy for a club of this size.
"Gary Peters' position is funded myself, so it's not quite as stark financially as it seems.
"But we said the management structure would stay the same, but not indefinitely. They know that."
Pitman, goalkeeping coach Russell Hoult, coach Richard Sneekes and director of football Gary Peters all know that the team are playing not only for their immediate future against the promotion-chasing Gulls on Saturday, but the backroom staff's too.
And that also applies to O'Kelly, who has already discussed all the possible options with the Bulls board.
"We got into the 10-week arrangement with an agreement after which we would sit down to review the future," added Keyte. "And that's where we are.
"And, although it's a major match on Saturday that you don't want to interrupt the preparations for, it makes sense that you start with an early discussion this week, so we know where we are next week."
Hereford chairman David Keyte was talking to BBC Hereford & Worcester sports editor Trevor Owens.