Sandy Jardine pleads with SFA not to cripple Rangers
Last updated on .From the section Football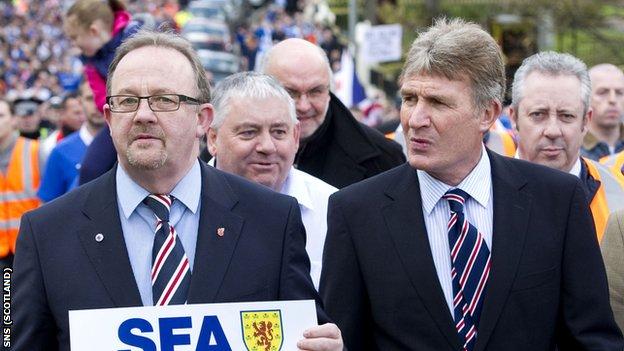 Sandy Jardine has pleaded with football authorities not to cripple Rangers, saying they were a club that paid their bills prior to Craig Whyte's arrival.
The Fans Fighting Fund figurehead was speaking the day before an appeal is expected to be lodged against Scottish FA sanctions.
A fine and year-long signing ban were imposed for misdemenours following Whyte's takeover of the Ibrox club.
"We know we've done wrong, but it has to be measured," said Jardine.
"We've been decapitated. When Craig Whyte came in, basically all the senior directors were dismissed and Craig Whyte has vanished, along with his people.
"Craig Whyte decimated Rangers but also had a big impact on Scottish football. His actions have impacted hugely on Rangers but also on Scottish football.
"I realise that the players did nothing wrong, the supporters did nothing wrong, the staff did nothing wrong.
"But we have to have some sort of punishment because it has to be a deterrent."
Former Rangers defender Jardine on Saturday led a match of thousands of fans to the SFA offices at Hampden to protest at the severity of the punishment after being charged with bringing the game into disrepute.
"When Rangers fans get riled, they're a big beast and I've never known the anger from the supporters in all my time at the club, and I'm talking nearly 50 years, at what they term unjust sanctions laid down to us," he told BBC Scotland.
"The Fighting Fund will fund a QC to represent the club and, once we hear the actual list of sanctions and how they arrived at that decision and when the appeal date is, then the Fighting Fund will announce the QC who we'll appoint to represent the club."
Jardine reiterated the line that Whyte was a rogue element who distorted Rangers' good record of paying their debts to other clubs and eventually landed the club in administration.
"We always paid our bills," he said. "We were appalled that we found out that all these bills hadn't been paid.
"If everybody says we've never said sorry, I'll say sorry, but the person that should be saying sorry is Craig Whyte.
"We're sorry that we took Craig Whyte on for what he did to everybody.
"The club had a problem and, to be honest, we were trading out of our problem, but Craig Whyte came in.
"He used the supporters money to buy the club, he used the staff's money to fund the club and didn't pay a bill.
"It's been so embarrassing and humiliating for a football club that always prided itself in doing the right thing, always paid its bills."
Jardine warned that Rangers might prefer to play in Division Three than in the Scottish Premier League should the penalties for doing so be too great.
"If they mean that we can't sign any players, they don't understand that our players could leave," he said.
"So what they're saying is that they make us non-competitive.
"Well, if we're non-competititve in the SPL, there is a feeling now that we'll take our punishment, we'll go to the Third Division.
"It'll buy us time to maybe re-group, start to try and re-invest in players and work our way up."