Euro 2012: Can Cristiano Ronaldo lead Portugal to glory?
By Andy Brassell
European football expert
Last updated on .From the section Euro 2012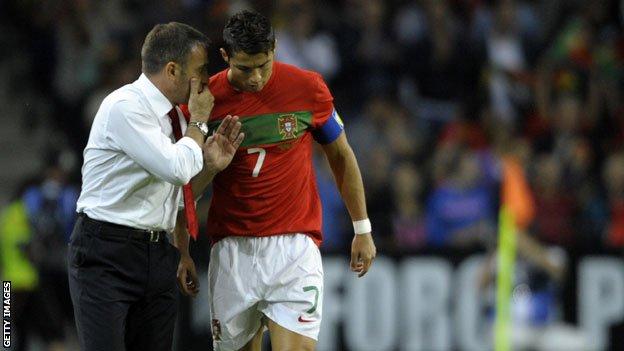 When it comes to the European Championship, Cristiano Ronaldo has unfinished business.
It will be eight years ago this summer that he shed bitter tears on the Estádio da Luz pitch, after Portugal suffered a shock Euro 2004 final loss to Greece on home soil.
Ronaldo hopes to banish that memory on Sunday 1 July in the Euro 2012 final in Kiev, more than 2,500 miles from Lisbon. Portugal have seen a golden generation of stars retire in the intervening period, including Luis Figo, Manuel Rui Costa and Pedro Pauleta.
The 27-year-old Ronaldo is already a hugely popular figure in his home nation but this summer's tournament is the chance for the Real Madrid star to confirm his position amongst Portugal's greatest.
With a tough-looking group awaiting Paulo Bento's men, featuring heavy favourites Germany, the Netherlands and perpetual nemesis Denmark, even reaching the last eight would earn respect. As always, Ronaldo will strive for much more.
Public expectation is significantly lower for Portugal this time around, given the struggles of recent qualification campaigns and a poor 2010 World Cup. The current crop is no golden generation, but it does have its trump card in Ronaldo - and he is reinvigorated at international level.
Under Bento, he has come a long way from the unhappy figure who slunk off the pitch after World Cup exit to neighbours Spain in Cape Town two years ago.
While Ronaldo had already worked with World Cup coach Carlos Queiroz at Manchester United, the relationship never took off for Portugal. The defensive tactics of Sir Alex Ferguson's former assistant left Ronaldo isolated and frustrated.
Bento's appointment in October 2010 was not met with universal delirium in Portugal. Yet Ronaldo has publicly backed him, something that has significantly strengthened the coach's position.
After scoring just twice in two years for Portugal under Queiroz's guidance, Ronaldo rattled in nine goals in his first 11 games under Bento, a strike rate more closely mirroring his stellar club form. Retained as captain, he looks much happier.
The two have known each other for some time, with Bento a senior pro at Sporting Lisbon when Ronaldo graduated from the academy there. Having gone on to head Sporting's academy and then coach the senior side, Bento knows inside out a club still close to Ronaldo's heart.
Bento is a pragmatist, and will play to Ronaldo's strengths - much as tends to happen at his club. Counter-attacking may not be to the taste of some traditionalists at the Bernabeu, but it suits Ronaldo's power and acceleration perfectly. It has done since his time at United, and it could work for Portugal this summer.
At Real, there are signs Ronaldo has found a creative foil in countryman Fabio Coentrao and the former Benfica left-back is arguably Portugal's most important player bar Ronaldo.
Good friends off the pitch, the pair's nascent partnership was already evident at the World Cup. Ronaldo and Coentrao combined spectacularly against a North Korea side who had worried Brazil days before.
Two years on, the hope is that Portugal can at last make it count in a tournament with which Ronaldo has a special relationship.
Euro 2004 was a strong, formative experience for him as a teenager, having just completed a debut season with United. It says much for Ronaldo's potency even then that Ashley Cole's neutralisation of him in the quarter-final is still thought of as the defender's keynote England performance.
Rallied by then coach Luiz Felipe Scolari, Portugal was overtaken by flag-waving fervour that month. Ronaldo, a fiercely proud Portuguese, was as swept up in the moment as anyone. That feeling has never left him.
It might have been a similar story four years later in Switzerland, in a country with 200,000 Portuguese expats. The carnival never quite arrived. A tense atmosphere surrounded the camp, and news leaked mid-tournament of Scolari's impending move to Chelsea.
Ronaldo himself was the source of even greater attention. Fresh from United's Champions League win in Moscow, speculation about his future was in full spate, with Real desperate to snatch him away.
The effervescent youngster had become a global star, with all the accompanying scrutiny. Portugal's campaign was unceremoniously cut off by Germany in the quarter-finals.
This summer provides a happier context. The forward appears to have recovered relatively quickly from the disappointment of Champions League semi-final elimination - and a missed penalty in the shoot-out - and goes into Euro 2012 with a La Liga winner's medal. January's questions over his future in Spain seem a long time ago.
The idea that Ronaldo required an attitude change is a misplaced moan about an ultra-committed, obsessive trainer. Yet the forward is by nature an improver, never satisfied and always ready to evolve.
History is now within his grasp. If Portugal reach the semi-final and Ronaldo plays every game between now and then, he will leapfrog Rui Costa as Portugal's third-most-capped player.
Ronaldo's side may not be favourites, but this final staging of the tournament with just 16 teams gives them a chance. A lightning-fast dart for the trophy would be just his style.