Euro 2012: Italy coach Cesare Prandelli handed attacking poser
By James Horncastle
European football writer
Last updated on .From the section Football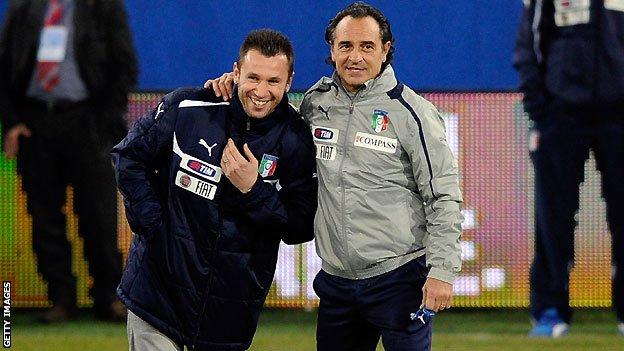 Before every major international football tournament, much is made in Italy of the commemorative Panini sticker album and who the publishers anticipate will be included in the squad.
As it is published in mid-April, way in advance of the June start, a lot of it is guesswork. Even so, it is a tradition to view their prediction seriously.
For Euro 2012, there were a couple of portentous omissions. According to Panini, AC Milan playmaker Antonio Cassano and Villarreal striker Giuseppe Rossi would not be on the plane.
For the superstitious among the Italy support, this was taken as confirmation of their worst fear: that the players around whom qualification had been built were to miss the finals.
In October last year, Cassano suffered a stroke caused by an undetected congenital heart defect and Rossi tore the anterior cruciate ligament in his right knee.
Given their importance, coach Cesare Prandelli promised to wait for them until the last moment. His faith looked like it would be rewarded, as both were making encouraging progress.
Remarkably, Cassano returned for Milan as soon as 7 April with a late cameo against Fiorentina. Rossi meanwhile was scheduled to make his comeback for Villarreal on 22 April at Real Sociedad.
But then misfortune struck once more. Rossi relapsed and, devastatingly for him, will be out for another 10 months.
"There's a serial killer on the trail of Prandelli's plans for Italy's attack," wrote Massimo Cecchini in La Gazzetta dello Sport, giving a sense of the anxiety about the situation.
Recent friendlies have seen Italy beaten 1-0 at home by both Uruguay and the United States but the worry was not about the performances, which in many respects were positive, but rather on the fact the hosts couldn't score without Cassano or Rossi.
On the bright side, Cassano will be at Euro 2012 and has already given indications of getting back to his best.
"In Italy, there's only Andrea Pirlo like him, not in terms of position, but for the simplicity and naturalness of their game," wrote Mario Sconcerti in Il Corriere della Sera.
Top-scorer in qualifying with six goals, Cassano is held in high regard by Prandelli.
"Cassano isn't missing from my sticker album. He will always be in it," Prandelli quipped. Yet doubts remain about who will play alongside him when Italy face holders Spain in their Euro 2012 opener in Gdansk on 10 June.
Prandelli's provisional 32-man squad was met with some surprise, not least because most of his attacking options lack international experience - four of the six strikers have no major tournament experience and are 25 or under.
Familiar faces such as Inter's target man Giampaolo Pazzini and Genoa's Alberto Gilardino were left out on the back of poor seasons.
And while Prandelli can rely on Juventus to furnish the team with seven players, the Serie A champions cannot provide a sure-fire goalscorer.
Top marksman Alessandro Matri lost his place at club level to Fabio Quagliarella and Marco Borriello, neither of whom offer reliability however. It was on that basis that Prandelli overlooked all of them.
Aside from the selection of teenage creative midfielder Marco Verratti, plucked from Serie B side Pescara, it was the inclusion of Siena's rangy uncapped centre-forward Mattia Destro that got people talking most.
He was welcomed into the fold after scoring 12 goals in Serie A, a feat no Italian striker aged 21 or under has achieved since Roberto Bettega in 1971.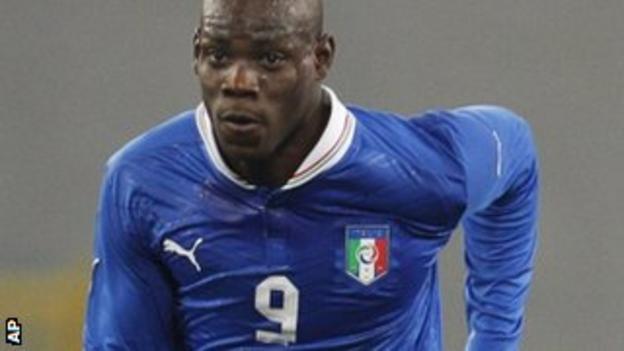 Joining him are two players once prematurely hyped as the next Alessandro del Piero and Pippo Inzaghi - Parma's pocket-sized Sebastian Giovinco, deservingly picked after a 15-goal season, and Roma's Fabio Borini.
So, back to Panini and the forwards they rightly made stickers for under the assumption they would be in the squad.
One was Udinese veteran Antonio di Natale, leading scorer in Serie A in 2010 and 2011, and a player Prandelli had formerly resisted the temptation to call up. At 34, he represents the past more than the future. But even so, Prandelli has accepted he is the man for the present.
The other, of course, is Manchester City's Mario Balotelli.
Left out of Italy's recent friendly against the US in response to his domestic ban for violent conduct after he stamped on Tottenham midfielder Scott Parker, Balotelli further incurred Prandelli's displeasure by not calling to explain himself.
"Call him, Mario," wrote Luigi Garlando in La Gazzetta dello Sport. "Call for the love of God. Telephone Prandelli and swear that you'll be good."
Balotelli did so and showed he learned his lesson by expressing contrition again when he was sent off against Arsenal in April.
Whether he can be depended on at Euro 2012 remains to be seen. Still, there is a sense that, although untried and potentially pyrotechnic, an attack comprising Cassano behind Balotelli and Di Natale, might give Italy a chance.
Italy deserve consideration as dark horses. Despite having booked their place in Poland and Ukraine with the best defence in qualifying, this is not the counter-attacking, opportunistic Italy of old.
Under Prandelli, they seek to impose themselves through attractive, possession-oriented football based around a Pirlo-inspired midfield with 'piedi buoni' (good feet).
Italy have held Germany to a draw and beaten Spain in the past 18 months and, while they might not win Euro 2012, they are likely to be a pleasant surprise.