FA Cup final: Liverpool and Chelsea resume rivalry
Last updated on .From the section Football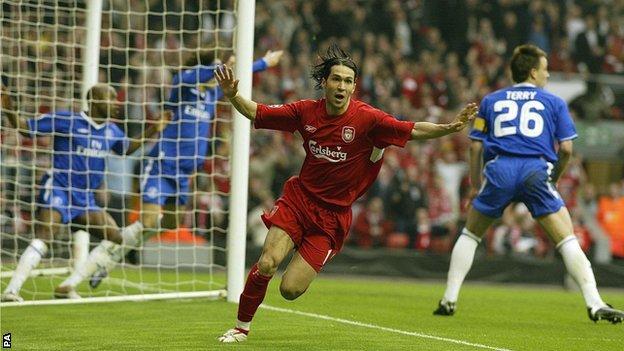 The more Liverpool and Chelsea play each other, the more they seem to discover they simply do not get on.
The FA Cup final at Wembley on Saturday promises to be another landmark occasion - north v south, red v blue, the aristocrats versus the arrivistes.
Incredibly, it will be the 31st meeting between the clubs in the past eight seasons.
While the rivalry may lack the spite of Liverpool versus Manchester United or the history of the Merseyside derby, familiarity has literally bred contempt over the past decade.
Few are better placed than former Liverpool forward Luis Garcia to discuss this modern-day malevolence between two of England's great clubs.
The zenith came on a balmy May night at Anfield in 2005. It was a night when Liverpool beat Chelsea 1-0 to reach their first European Cup final for 20 years, a night when Garcia scored a goal that former Blues manager Jose Mourinho still talks about.
At the time 30 points separated the sides in the table. Chelsea had won both league matches and lifted the Carling Cup at Liverpool's expense. To add further spice Steven Gerrard was giving serious thought to joining Mourinho's revolution.
At kick-off a banner on the Kop read "make us dream" - four minutes into the match Garcia did just that. "They called it the ghost goal, I don't know why. It was in, it was in. I've always known that, it was over the line." Garcia told BBC Sport.
"There was a tension, the clubs didn't get on but to hear Mourinho still talks about it is incredible. It must still hurt.
"It was probably the greatest night of my career. That and the final in Istanbul, of course. There was a magic at Anfield that night. Something I have not felt before, or since. I miss the city and the club."
Chelsea captain John Terry openly admitted he cried in the dressing room after the final whistle. On his next visit to Anfield the former England captain felt a shiver go down his spine. It was, he said, like returning to a room full of ghosts.
The exchanges between Liverpool manager Rafael Benitez and Mourinho marked the most explosive period in the feud. "We were good friends until we started beating them," recalls Benitez. "Jose was only friends with the managers he beat."
Mourinho refused to acknowledge any tension existed, however. "There was no rivalry. We met them on big occasions but they were just another team. I have no special feeling."
Garcia tells a very different story. "They were fantastic occasions and it always felt like something important was at stake, you could sense that in the dressing room before the matches," he said.
"They were the team to beat at the time. They had spent a lot of money and had a fantastic side. But we knew we had something on them. There was always a great atmosphere and I loved playing in those games, we all did.
"They felt a little different during those years. Special games."
Chelsea forward Eidur Gudjohnsen agrees. "Whatever was said publicly the games against Liverpool were different," he told BBC Sport. "Different for the players and fans, you could sense that. There was a unique intensity about them."
Gudjohnsen was in the side when the modern rivalry began on the final day of the 2002-03 season.
The sides had met on important occasions as far back as the FA Cup semi-final of 1965 when Bill Shankly's unsophisticates from the north lanced the cor-blimey arrogance of a talented young Chelsea side led by Terry Venables and Ron Harris.
There were moments in 1978 and 1997 when contests took on a significance that lifted their clashes above the ordinary. But it was not until May 2003 that the rivalry as we know it today began in anger.
With a Champions League place at stake and future owner Roman Abramovich lurking in the shadows, Jesper Gronkjaer scored the winner as Chelsea fought back from a goal down. The Russian bought the club, the rest is history.
Only two players involved that day are expected to start at Wembley - Frank Lampard and Steven Gerrard (Jamie Carragher is likely to be named among the substitutes). Their battles have come to epitomise the highs and lows of the rivalry. One or both were named in the PFA team of the year every season from 2003 to 2009 - neither has made the past two XIs.
Gerrard will forever be revered on Merseyside for his loyalty when Chelsea and the money came calling in the summer of 2005. Lampard has won seven trophies with Chelsea since then, Gerrard only three.
Neither man is in his pomp, but both will need to have an influence if their side is to prevail on Saturday.
Fernando Torres, who could not resist the lure of Chelsea, may also have a say against his old club.
The clash of cultures on the field will be one aspect but the differences among the supporters are just as stark.
"Chelsea were basically pretty rubbish for a long time," Tim Rolls, of Chelsea fanzine CFCUK, said.
"In the last 10 years we have been far more successful. Liverpool are obsessed with singing about history but we feel it is time for them to move on.
"I know they won four European Cups in the 70s and 80s but apart from one night in Istanbul they have struggled.
"There is a tension between the clubs, an edge, some antagonism. We had a small minority of fans who let themselves and the club down during the minute's silence at Wembley to remember the Hillsborough disaster.
"That isn't a reflection of us, but it is fair to say this will always be a big game for us, a rivalry."
The next chapter will be written at Wembley on Saturday. If recent history is anything to go by, it will be one not to miss.