Hearts announce large debt drop
Last updated on .From the section Football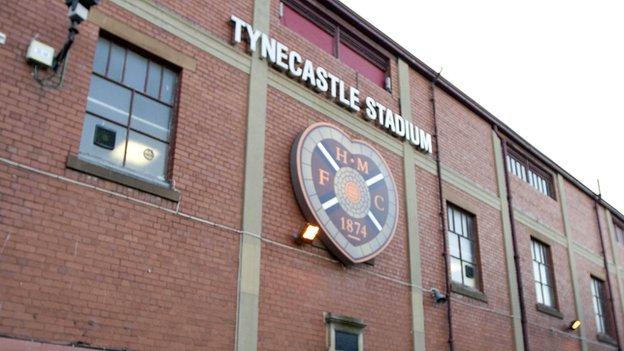 Hearts have released financial figures showing a profit of £511,000 for the year ending in June 2011.
The Edinburgh outfit say their overall debt is down from £36.1m to £24m, the result of a debt restructuring plan.
They also indicate employment costs are down 12% to £8.03m and operating costs have reduced by 19% to £3.63m.
Turnover at the Scottish Premier League club is down to £6.9m; £1m less than the previous year.
Hearts say this downturn is due to the fact they have outsourced the retail side of the business and there was no European football or significant player sales.
Cashflow problems at Hearts meant salaries were paid late on four occasions this season.
Delays on three consecutive months led players to complain to the Scottish Premier League in December but the club avoided threatened sanctions.
Hearts moved on several players in January, including Ryan Stevenson, Eggert Jonsson and Calum Elliot.
Goalkeeper Marian Kello left last month, with his contract due to expire in the summer.
And Ian Black, Adrian Mrowiec and David Obua have since been told their deals will not be renewed.