Kettering's George Rolls has a 5-man manager shortlist
Last updated on .From the section Football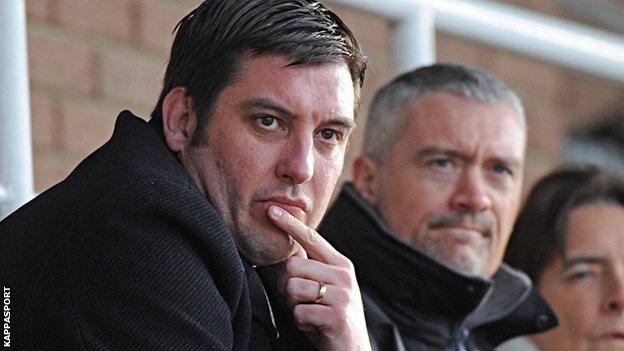 Kettering Town acting-chairman George Rolls says he has a shortlist of names for the vacant manager job.
Rolls told BBC Northampton: "The shortlist is realistically five people, and we will look to appoint one of them fairly shortly.
"Both Mark Cooper and Graham Drury have been in for interviews, but I don't think it'd be fair to say if they're in consideration or not."
Drury has already accepted the manager's job at his former club, Evo-Stik First Division South side Stamford, after his exit from Corby Town.
Rolls added: "We're getting some new candidates who've applied even this week and I've just interviewed [former Northampton Town manager] Ian Sampson, who's applied for the job as well."
Former Crewe, Sheffield Wednesday and Wrexham defender Westwood is also known to have been interviewed for the full-time position.
"We've taken our time, seen lots of candidates, invited some back a second time and some have been to see me three times," said Rolls.
"The most important thing is to get the decision right."
Meanwhile, Jaime Navarro has become the latest player to leave Nene Park by mutual consent, following Jerel Ifil and Craig Dobson.
The 21-year-old is a former Real Madrid C player but failed to hold down a regular starting place in the team, making 16 appearances.
"Players that are under contract will be at the club. We have had conversations with a couple of players and mentioned that what they're earning was probably too much even for the Conference, let alone Conference North.
"Obviously we've agreed for three to leave the club. We've got players out of contract [as of] Saturday and players that the club has got options on. We'll be deciding if we take those up those options [to extend their contracts] on Saturday."
With regards to the full take-over of the club from current owner Imraan Ladak, Rolls says is "happy and comfortable" with the situation, although the transfer of shares is not believed to have taken place as yet.