Zambian FA confirms Fifa playing ban for match-fixers
Last updated on .From the section Football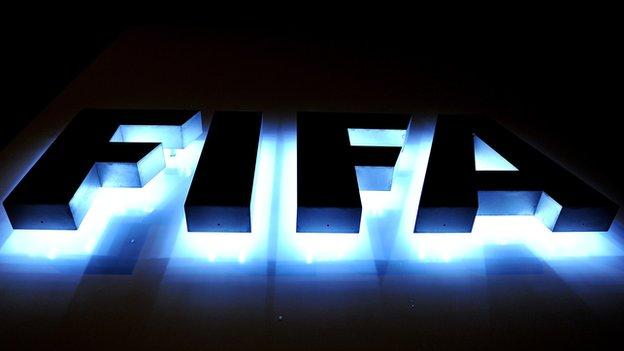 The Football Association of Zambia (Faz) has stepped in to ensure that nine convicted match-fixers honour their global playing bans.
All the players were found guilty of taking bribes in Finland last year and then given a two-year ban by that country's football association.
World football's governing body, Fifa, extended all the bans to apply globally, but two of the players - Donewell Yobe and Francis Kombe - have unwittingly violated the ban by playing back home in Zambia.
Yobe's sanction was made a worldwide one on 9 January and Kombe's on 23 March but both men have played since then, having been given a temporary registration by Faz.
Donewell Yobe scored on his return to action in April as National Assembly beat Zanaco, while Kombe has turned out for Power Dynamos this season.
The club was subsequently told by Faz not to field him for their game on 2 May against Nchanga Rangers.
A third player, Donewell Yobe's brother Dominic, who was convicted at the same time as the other two, has also had his ban extended.
He was registered to play for Zambian club Zanaco but has not made an appearance so far this season.
Faz says that before allowing their registrations, it told both the clubs and players that they could be revoked once there was official communication from Fifa.
"As an association, we have powers that grant us the authority to register the players temporarily for a year after 14 days of not getting the players ITC's from their club associations," Faz media and communications manager Erick Mwanza told media.
Fifa told the BBC that initially only the Football Association of Finland and Europe's governing body, Uefa, with whom the players were registered, were informed of its decision to ban the players globally.
It is then down to those bodies to inform the players, according to Fifa.
A statement from Fifa added that when it is "informed/aware through the Transfer Matching System that a player has been transferred internationally, we inform the new association and its confederation, which shall forward the information to the player."
"Furthermore, we have asked the Zambia FA to provide us with information regarding all the players to which the ban has been extended."
The other six Zambians found guilty of match fixing in Finland, who lost their appeals against their convictions, were banned for two years by the Finnish FA last month.
Those sanctions against Godfrey Chibanga, Chileshe Chibwe, Steven Kunda, Christopher Musonda, Chanda Mwaba and Nchimunya Mweetwa were extended globally by Fifa on 30 April.
Their bans are set end on 5 April 2013.