South-coast pendulum swings Southampton's way

By Tony Husband
BBC South Today sports editor
Last updated on .From the section Football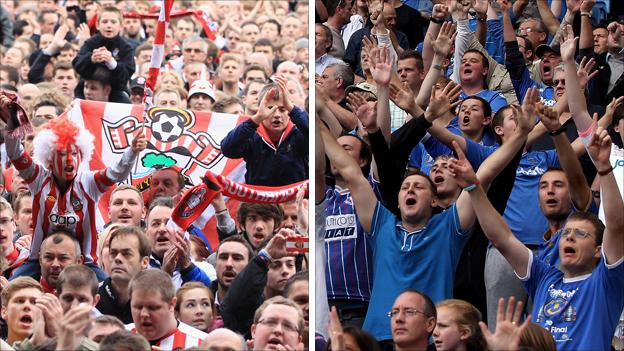 As Portsmouth powered their way to a 4-1 Premier League victory over Southampton in April, 2005, south coast football observers could feel the pendulum in this great rivalry swing decisively to the blue half of Hampshire.
Seven years on, those who see football through red-tinted spectacles will feel that the natural order has been restored with Southampton in the top flight and Portsmouth somewhere below them in the pyramid.
Yet just three years ago the roles were reversed. Southampton were in administration, relegated to League One and facing a fight for survival. Portsmouth were a Premier League club. Now look where we are today.
A look into the past throws up similarities between two clubs 17 miles apart. Although to many they now seem worlds apart in their hopes and dreams.
Saints wowed the top flight with one of the top English managers of his day, Lawrie McMenemy, in the 1980s. Peter Shilton, Kevin Keegan, Mick Channon and Alan Ball, to name but a few, entertained the crowds at The Dell.
In the Premier League they used their quaint and crowded surroundings to beat the odds consistently and stay up, thanks, to a large extent, to the magic of Matthew Le Tissier.
For Southampton in the 1980s and 1990s, read Portsmouth under Harry Redknapp in the 2000s. Fratton Park was the Dell of its era, Redknapp was the McMenemy-type figure. For Shilton and Keegan, Portsmouth had David James, Jermain Defoe and Sol Campbell, plus a host of world-class foreign players like Lassana Diarra.
Southampton, like Portsmouth, longed for a new stadium during their glory years and although much maligned by some fans, former Saints chairman Rupert Lowe left one huge legacy - St Mary's. The splendid stadium gave a traditionally well-run club a 21st-century vision.
While Portsmouth spent millions, entertained the crowds and notably won their first major silverware since the 1950s, Southampton were on their knees. Relegation from the top flight had left them in a financial mess, but they had a base from which to start.
This clearly impressed the late Marcus Liebherr enough to invest millions into turning them back into the Premier League club they are today.
Portsmouth's well-documented decline sees them facing an uncertain future. The fan-base will keep the Pompey Chimes alive, one way or another.
Ultimately, both these south coast clubs have enjoyed similar highs at different times in their recent history. The difference, perhaps, is that when they were rocked to their foundations, Southampton's building blocks proved sturdier.
The pendulum has certainly swung again, but for how long?