Jose Mourinho rewarded for patient approach at Real Madrid
By Andy Brassell
European football expert
Last updated on .From the section Football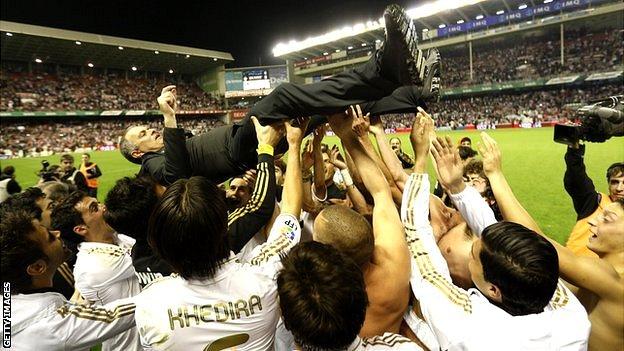 "It's the seventh, but it's been the most difficult."
This win is Mourinho's seventh league championship title in 10 seasons, spread across four countries.
Only three coaches have pulled the four-country trick before; Ernst Happel, Giovanni Trappattoni and Tomislav Ivic (who won in five different nations).
Yet one of Mourinho's most curious characteristics is his capacity for occasional disarming humility. Despite his regular success, few will need reminding how hard he has had to work for this one, in the shadow of Pep Guardiola's all-conquering Barcelona.
Mourinho's assistant Aitor Karanka, the camp's spokesman in recent weeks as the boss refused to address the media, summed up the team's progress.
"We managed to win the cup last year, which gave us a lot of hope and brought us a step closer to winning La Liga," he said.
Karanka's words beautifully distilled the long game of catching Barca. It has been a gradual effort and as such, something totally new in Mourinho's career.
The football world knows him as a whirlwind, a managerial force of nature. His personality and his methods are not everyone's cup of tea, but an instant impact is pretty much a given.
It has always been so, ever since the press conference to introduce Mourinho as FC Porto head coach in January 2002. He replaced Octavio Machado with Porto at a low ebb, struggling in sixth place in the league.
In what has become an iconic moment in Portuguese football, Mourinho banged his fist on the table and declared Porto would be champions next season.
People laughed at his bravado, but he proved them all wrong.
Later, of course, he would guide Chelsea to a first league title in half a century and win Serie A in both of his seasons at the helm of Inter Milan. Yet the stewardship of Real Madrid represented an entirely different challenge.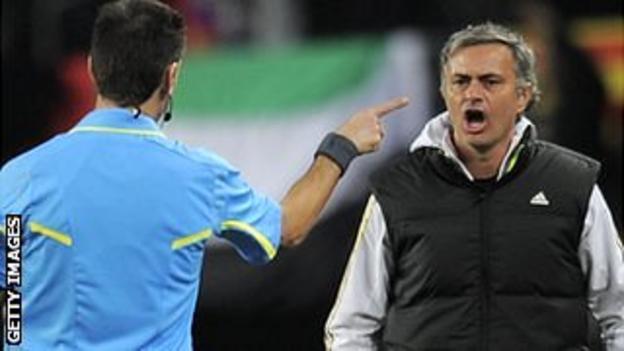 At the Bernabeu, a legacy-defining puzzle awaited Mourinho. His power has always been his attention to detail, and his ability to set the agenda. It was hard to foresee the scope for that in Madrid.
With a stature bequeathed to them by their role in creating the European Cup and their early years dominating it, Real Madrid are an institution like few others in football. They have a way of doing things - and a way of winning.
To an extent, Mourinho's appointment in 2010 seemed an admission by president Florentino Perez that Madrid could never match Guardiola's Barca for style. The message was that they must win at all costs; even if that meant Mourinho.
The coach's task was multiple. He would have to create a side in his image, working for the collective in an environment that traditionally lionises outstanding individuals. At the same time, he would need to appease those who demanded stylish football.
Mourinho has sailed close to the wind at times in the past two seasons, mostly in situations that directly compared his side to Guardiola's.
The pro-Madrid press heavily criticised him for a brutal, negative approach in last season's Champions League semi-final, and in the Copa del Rey quarter-final first leg defeat by Barça in January.
Thereafter, we saw Mourinho's genius, and his capacity to reinvent. He coaxed on extraordinary second leg display from his side in that Copa del Rey tie, ending in glorious failure but tilting the balance of power between El Real and Barca.
As he has done elsewhere, Mourinho got his players to take a leap of faith. While individuals like Cristiano Ronaldo and Karim Benzema have shone, they have worked feverishly too.
In return, they have been able to express themselves. If Mourinho has been able to change players' outlooks, they have slightly altered his too. El Real are an exhilarating watch.
For the first time, he had not been able to capture the title in his first full season in charge. Real Madrid has been a growth experience for him, and he is determined to carry on in his post.
Just as he entrenched his power base last summer by persuading the club to jettison sporting director Jorge Valdano, he will aim to strengthen again. Rumours that he wants to get rid of presidential adviser Zinedine Zidane persist.
Unsurprisingly, Zidane declined to comment while attending Montpellier's match with Evian on Tuesday. Still, most expect that Perez will give Mourinho exactly what he wants. Why wouldn't he?
As Mourinho and his players celebrated on the San Mames pitch, the rumours of squad schism that led to questions about his future earlier this year seemed light years ago.
With Guardiola gone and that precious Liga title in the bank, Mourinho will want to make his strong hand count.