Lincoln City's Smith, Barraclough and Power sign new deals
Last updated on .From the section Football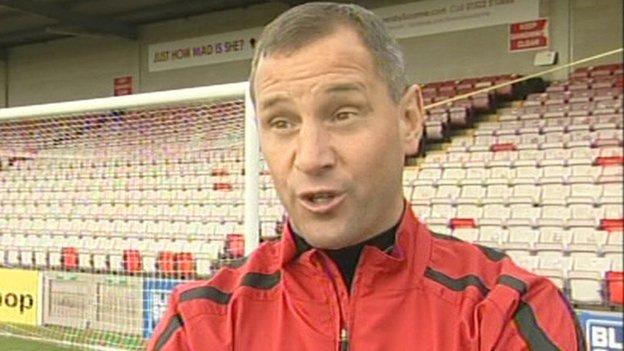 Alan Power, Bradley Barraclough and Sam Smith have all signed new one-year contracts with Lincoln City.
Striker Smith, 21 and Barraclough, 22, and midfielder Power, 24, take the number of players confirmed as staying on for next season up to eight.
Conal Platt, Josh Gowling, John Nutter, Jamie Taylor and Kyle Perry have already signed for 2012/13.
"We are delighted those boys are part of our plans. It's a big plus," manager David Holdsworth told BBC Lincolnshire.
Holdsworth has been unable to finalise his squad plans for next season up until now, and was concerned many of his best players might be leaving.
"Over the next few days things will maybe become a bit clearer," he said. "But I have had very, very healthy discussions with most of the players. Hopefully we will be able to keep some of them on board.
"We have some talented young men and we would like to keep them but there will be some we cannot keep. If wage demands are too high, we will have to cut our cloth accordingly to the resources at the football club."