Euro 2012: Will in-fighting undermine French chances?
By Matt Spiro
French football writer
Last updated on .From the section Euro 2012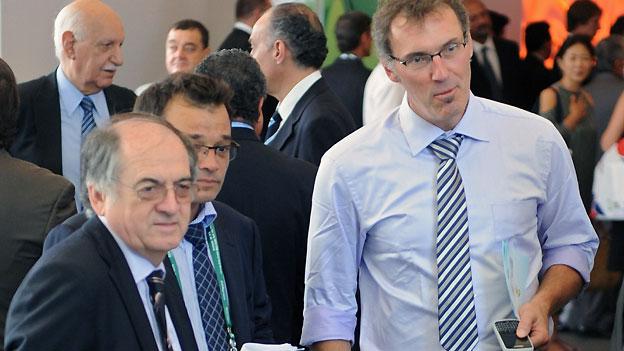 Any lingering doubts regarding France's improved state of health under Laurent Blanc were dispelled in February when Les Bleus surged to an impressive 2-1 win in Germany, extending their unbeaten run to 18 matches.
Results have improved significantly since Blanc replaced Raymond Domenech in the wake of a shambolic 2010 World Cup. Yet scratch beneath the surface and it becomes apparent some familiar off-field problems remain.
Blanc's tenure has not been one smooth, happy ride, and an ongoing contract dispute between the 46-year-old and Noel Le Graet - chairman of the Federation Francaise de Football (FFF) - is threatening to hamper France's Euro 2012 campaign.
The former Manchester United defender has had to contend with a variety of issues since his appointment two years ago. Indeed, Blanc admits he came close to resigning last year after becoming embroiled in the so-called "quota scandal" that rocked French football.
More recently, the role of Blanc's agent Jean-Pierre Bernes was called into question. As well as the manager, Bernes represents a host of internationals and is rapidly expanding his client list, triggering allegations of a conflict of interest.
Yet the stand-off between Blanc and Le Graet may prove the most damaging saga of all.
When the former world and European champion agreed a two-year contract with Le Graet's predecessor Jean-Pierre Escalettes in 2010, he was careful to insert a clause that stipulated the deal be extended in the event of a successful qualifying campaign.
Le Graet, however, has ignored that clause.
Blanc's contract is therefore due to expire at the end of Euro 2012. He is currently free to sign with another team and to start working for them from July.
A highly respected figure from his illustrious playing career, and already a title-winner as a manager with Bordeaux, Blanc's potential availability is stirring much interest: Chelsea, Inter Milan and Barcelona are among those to have been linked with the Frenchman.
Intent on cutting costs, Le Graet appears happy to gamble on Blanc's future. Soon after his appointment last June, Le Graet informed Blanc that talks over a new deal would only commence if France performed well this summer.
Blanc's initial response was unequivocal: "I'm only staying on if my contract is extended before the Euros," he declared last October.
Although the manager's stance appears to have softened, reports claim the relationship between the two most important figures in the French game remains strained.
Le Graet is understood to be unhappy about the size of Blanc's staff, which comprises 23 people, from press officers to psychoanalysts and assistants. As well as recruiting old acquaintances such as ex-colleagues Alain Boghossian and Jean-Louis Gasset, Blanc has offered consultancy work to Fabien Barthez despite already having a goalkeeping coach.
"When Blanc arrived, he got everything he asked for because the chairman at the time was still shaken by events at the World Cup," L'Equipe's chief football writer Vincent Duluc told BBC Sport. "Le Graet is a much tougher negotiator."
A ruthless businessman, the former French League chairman has clashed with Blanc over several matters. Le Graet, for example, rejected Blanc's request to stage a pre-Euro training camp abroad. He also insisted France stay in a relatively modest Donetsk hotel next month rather than bow to Blanc's preference for a more luxurious Polish venue.
According to Duluc, the power struggle will be settled by results in Poland and Ukraine.
"If Blanc has a good campaign he'll be in a stronger position to negotiate and justify the presence of so many staff members," he explained. "If not, Le Graet will be calling the shots."
Unlike many concerned French fans, Duluc does not believe Blanc will walk away, saying: "He really wants to take France to the World Cup in Brazil. International football suits him. I don't see Blanc returning to the everyday grind of club football right now."
Others are not so sure. France assistant coach Boghossian warned that Blanc is in demand and suggested his contractual situation needed to be sorted out by March. Another 1998 World Cup winner Christophe Dugarry told Le Graet his friend Blanc "no longer trusts" the FFF chairman.
Interestingly, however, a survey published in France Football magazine revealed that 72% of people believe Le Graet is right to wait.
Memories of Domenech's long, drawn-out period in charge remain fresh. Domenech was handed a four-year extension after steering France to the 2006 World Cup final, and subsequently clung on to his job despite a wretched Euro 2008.
Furthermore, history provides no evidence that Blanc's situation will affect his players.
In 2002, Roger Lemerre was handed an extension prior to the World Cup, yet the title-holders still performed dreadfully. Four years previously, Les Bleus triumphed despite knowing Aime Jacquet would stand down afterwards.
Should Blanc enjoy similar fortunes to Jacquet, he would be able to return to the negotiating table with a stronger hand than ever. Or he may simply decide to walk away.