Lou Macari issues Swindon Town promotion warning
Last updated on .From the section Football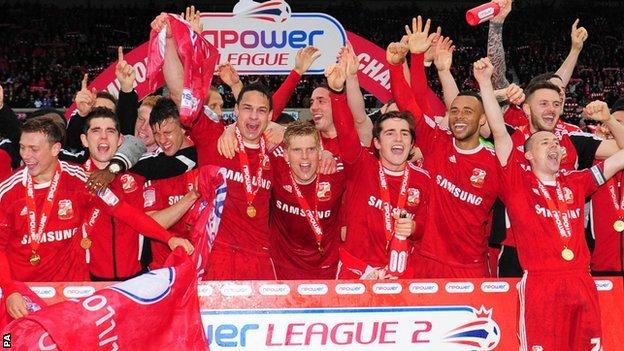 Lou Macari says fans must not expect Swindon Town to replicate the back-to-back promotions he achieved during his spell as Robins manager.
During his five years in charge at the County Ground, the 62-year-old led them the old Fourth Division crown in 1986 and the Third Division play-off title the following season.
"They've done great in getting promotion," he told BBC Wiltshire.
"I just hope people are not thinking it's a replay of the 80s."
Macari added: "It's not that easy. You need luck along the way and for things to drop into place for you."
Under Paolo di Canio, Swindon secured the title last weekend and an immediate return to League One following their rlegation 12 months ago.
The Italian has expressed his desire to reach the Championship with Town, and chairman Jeremy Wray has echoed the manager's ambition.
Much like Di Canio, former Manchester United midfielder Macari was in his first managerial role when he lead Town back up the Football League ladder, but he warned: "Things have changed and to progress now in football, money is a major factor.
"It's wasn't when I was here - there was no money. We just got a bunch of players together and got them to work hard and they managed to achieve what they achieved.
"There's more thought now on the money side of the game. It's not going to be easy to get promotion from the league they've just got in to.
"But Paolo has done great and I hope that continues."