The Blue Knights surprised by Rangers choosing Bill Miller
Last updated on .From the section Football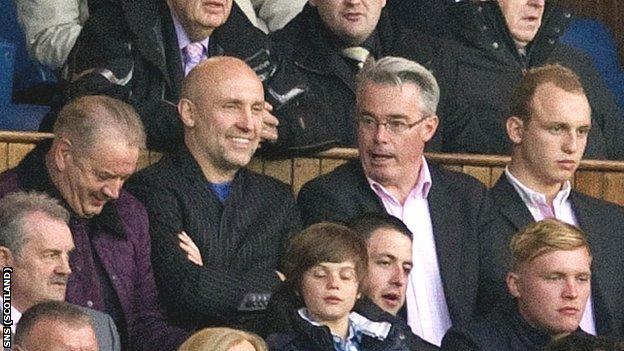 The Blue Knights consortium that has failed to become Rangers' preferred bidder is "surprised and disappointed" that rival Bill Miller has been chosen.
In a statement the group warns about the "complexities" of Miller's newco Rangers plan to exit administration.
It added: "The likely loss of European football for a minimum period of three years may carry longer term financial consequences to Rangers."
The Blue Knights had proposed a Company Voluntary Arrangement (CVA).
It had submitted an improved offer last weekend after being told that its joint bid with Sale Sharks owner Brian Kennedy would be unacceptable to creditors.
Administrator David Whitehouse, of Duff & Phelps, was clear that the firm had made the right choice after weeks of negotiations with Miller, the Blue Knights, Kennedy as a sole bidder, Bill Ng and a German consortium.
"Firstly, creditors have already given us sanction to complete the proposal; that's under the terms of the administration proposals which have been agreed," he said.
"Aside from that, we have already been in consultation with the largest creditor, HMRC and they are fully aware of and are supportive of the bid.
"HMRC and Ticketus are both creditors of the company and the creditors have voted in favour of the proposals which enable us to do this deal."
HMRC, for their part, offered a different take on claims that they have voted in favour of Miller's proposals.
"We will consider our position when any package is put to us," they said in a statement to BBC Scotland.
The Knights' membership comprises Paul Murray, Paul Mackenzie, Douglas Park, Ian Hart, Scott Murdoch and Kennedy.
They argue that they have "the best interests of Rangers Football Club at heart" and claim their "thorough understanding" of Rangers' position in Scottish football would have benefited the club.
The Blue Knights' statement continued: ''Our primary interest since 14 February 2012 has been to ensure the survival of Rangers Football Club and to preserve its history and heritage without having to transfer the business and assets into a newco structure.
"We strongly believe that we could have achieved this objective by a CVA arrangement which would have allowed Rangers Football Club to continue to trade in its present legal structure with a substantial refinancing being provided by the consortium.
"Indeed, until today's announcement, we had been making extremely good progress with our due diligence process having commenced, after being advised as recent as Saturday evening (28 April) that the quantum of our CVA offer was acceptable to Duff & Phelps [Rangers administrators].
"We believe that our bid was and remains the best bid for Rangers Football Club and its supporters."
However, the statement acknowledged that the formation of a new company would be easier for the administrators to effect.
Former Rangers director Murray, the Blue Knights spokesman, had urged Duff & Phelps to make its decision soon so that team manager Ally McCoist could plan for next season.
The Blue Knights' bid was conditional on the administrators delivering Craig Whyte's 85% shareholding in the club.
The statement added: "It is only in recent days this issue been seen as an impediment to overcome in enabling us to make an unconditional CVA offer to Duff and Phelps.
"Until the time of today's preferred bidder announcement, discussions were however on-going with Mr Whyte in this regard."
Whitehouse, though, was bullish that the former club chairman, who purchased Sir David Murray's shares in May last year, could not stand in the way of Miller's bid being completed.
"He has no role in this and he can't block this deal," he said.
"If we were to go down the CVA process without the newco route at the moment, we would need to either take action to secure those shares - which to date no purchaser requires us to do - or alternatively a purchaser would have had to do a deal with Craig Whyte.
"I think everybody would accept that the preferable solution is that a deal is not done with Craig Whyte and those shares are secured in a structured manner over the coming months.
"This deal effectively ring-fences the Craig Whyte issues from the on-going trade of the business and enables us to transfer the business to a newco and deal with Craig Whyte through the litigation in due course."