Euro 2012: Ailing Greeks hoping for boost
By Stephen Fottrell
BBC Sport
Last updated on .From the section Euro 2012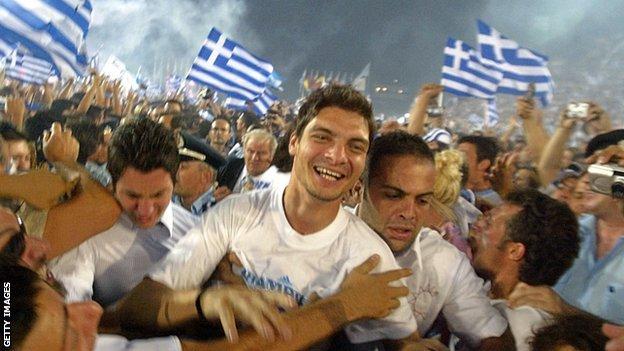 It is Sunday, 4 July, 2004. Greece have just caused one of the biggest upsets in sporting history by beating favourites Portugal to win the European Championship in Lisbon.
Back in Athens, Greek fans deliriously celebrate the incredible achievement of their highly unfancied team.
The country's economy is booming and the Greek capital is preparing to host the Olympics just weeks later. Things could not get any better.
Fast forward eight years and the setting could not be more different, as the Greek football team prepare to take their bow at Euro 2012.
The country is in economic ruin and Athens city centre, which hosted those massive scenes of celebration in 2004, has seen repeated protests and violence erupt on the same streets in recent months.
Greece is in an economic hole so deep that many cannot see it emerging for at least a generation.
The domestic game has been far from immune, with many clubs experiencing their share of financial difficulty and a dramatic drop in league attendances.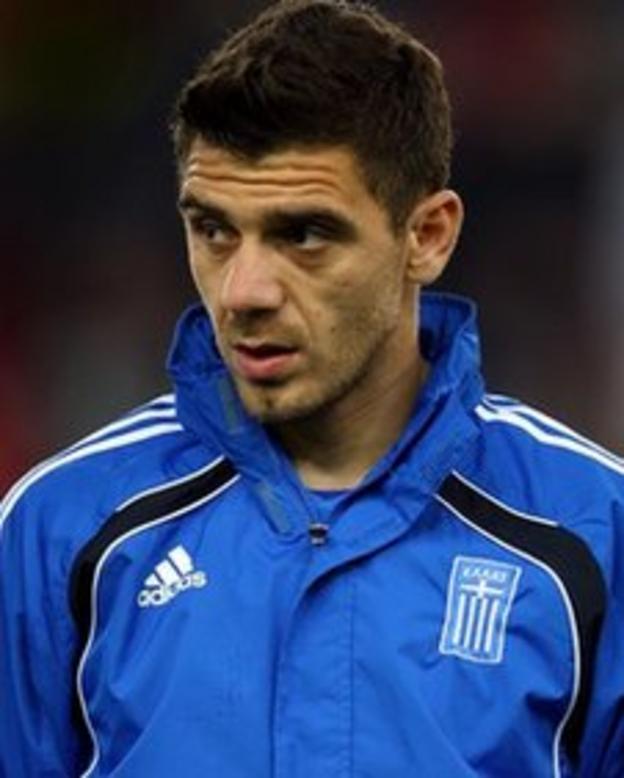 For many, Euro 2012 could not come soon enough, with fans in dire need of a distraction from their everyday struggles.
"Every football supporter in Greece is hoping for some good results from the national team at Euro 2012, because everything else here at the moment is so bad," Greek football expert Manos Staramopoulos said.
"Most of the clubs have run out of money, with the exception of Olympiakos, who once again won the league title this season.
"All the other teams have big financial problems. Some may not even be able to play in European club competitions next season.
"It's a very bad situation. For at least three months the players of Panathinaikos and AEK Athens have been unpaid.
"Only Olympiakos can afford to pay their players as normal."
Greece and Panathinaikos midfielder Kostas Katsouranis, who was a key member of the triumphant Greek side in Portugal, says the players are all too aware of the need to lift the Greek population.
"The problems [here] are very grave," Katsouranis told BBC Sport.
"The only thing that [we] can do is offer a psychological boost.
"We can only offer joy to the people and this is something that the national team is aiming for."
Whether this adds pressure on the team to upset the odds again will be seen when they open their account against one of the tournament's hosts, Poland - as they did against the Portuguese in 2004.
Then, they were set out in an ultra-defensive but highly effective formation by their German coach Otto Rehhagel, and kick-started their incredible run with a morale-jolting 2-1 opening win.
But if they are to attempt to emulate those heroics, the Greeks will have to do so with far less support in the stands this time.
Nikos Flekas of the Greek national supporters' club, "the Blue and White Lighthouse", says there will be far fewer supporters than at previous tournaments.
"Many fans, of course, want to go to Euro 2012 but their financial situation is so bad that they will have to stay at home.
"Only 60% of the total ticket allocation has been taken up.
"We are still expecting 4,000 Greeks at the first game [on 8 June] but half of these will travel from Greece and half from Germany, where many now live because there are more jobs and opportunities there."
This compares with the 6,000 Greek supporters who were in Austria in 2008 for their opener against Sweden, in what would turn out to be a disappointing tournament for the defending champions, who went out at the group stage without a point.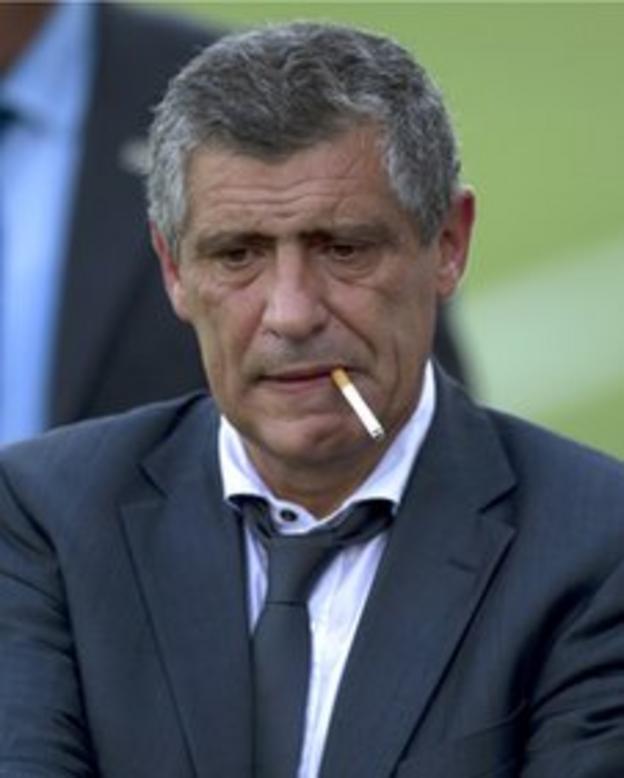 In 2004, meanwhile, there were 15,000 Greek fans in Portugal for the semi-final and 20,000 for the final.
"Things were very good in 2004," Flekas said.
"The Greek economy was strong, everything was good. But now because Greeks don't have this kind of money, they will be forced to stay at home.
"Our fans are still loyal. We think we will go far this time. But many of us will just have to watch it on TV."
The Greeks raised the expectations of a demoralised fanbase somewhat by topping their Euro 2012 qualifying group unbeaten.
They are now led by Portuguese coach Fernando Santos, who, while adding a slight attacking element, has largely maintained the core of the structure crafted to such good effect by Rehhagel.
This, however, has its advantages and disadvantages, Staramopoulos warns.
"It's difficult now because all opponents know what Greece are about.
"So they must give everything, whether the opponent is Poland or Germany or Italy.
"They have a lot of experienced players such as Katsouranis and [another 2004 veteran Giorgos] Karagounis.
"But they also have younger and talented players such as Olympiakos midfielder Ioannis Fetfatzidis and Sotiris Ninis from Panathinaikos."
For the committed few in the stands, and the many restricted to watching from their armchairs, the Greeks will be hoping that blend of young newcomers and older former champions can provide them with a brief respite they would pay any money for right now.