Former England manager Fabio Capello wants Premier League job
Last updated on .From the section Football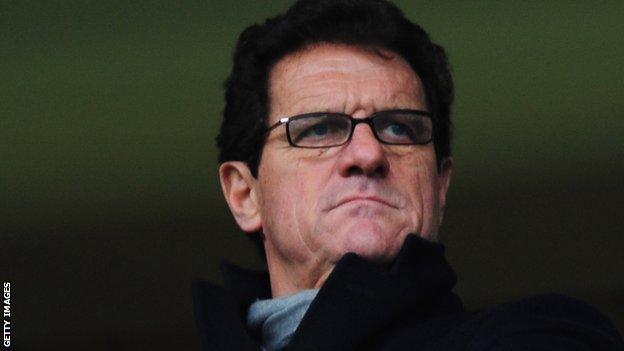 Fabio Capello wants "one more challenge" before retiring and is keen to take charge of a Premier League side.
"England would be very interesting for me because I know very well the teams and the players," Capello told the Times.
"I want to manage a team that wants to win something, if possible."
Capello has already turned down offers from abroad, with the former AC Milan manager prepared to bide his time for the opportunity to manage a top English side to arrive.
The Italian appears to have narrowed down his options by suggesting his focus is solely on a club who are capable of challenging in the Champions League, as well as for the Premier League title.
"It has to be interesting based on the value of the team, not money. I don't work for money," he added.
"I want to manage a team that is able to play in the Champions League and to fight for lots of trophies."
Meanwhile, Capello has backed the Football Association's decision to appoint Roy Hodgson as his successor.
He said: "I've known Roy since he was coaching in Italy and I have met him often in these last few years.
"I believe he is a very good and experienced manager and he is a very good choice for the England national team. I wish him all the best for the future and Euro 2012."