Aston Villa's Alex McLeish calls nightclub incident 'slur on club'
Last updated on .From the section Football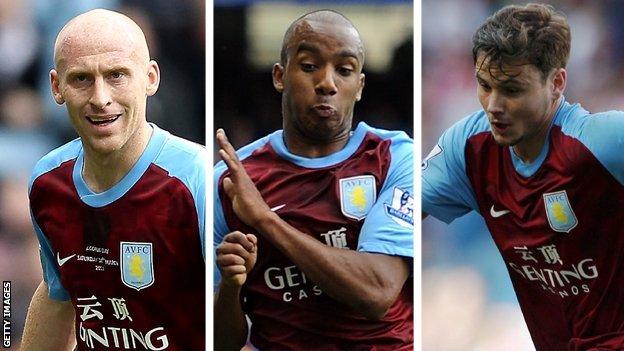 Aston Villa manager Alex McLeish says the involvement of three of his players in a nightclub incident was a "slur on the club".
Fabian Delph, Chris Herd and James Collins were fined for their part in the fracas and have apologised.
McLeish said: "It's the culture of one pint too many.
"I feel for [club owner] Randy Lerner and the fans but the players need to show some respect for themselves and the football club."
Villa sit outside the Premier League relegation zone but, ahead of their match against Tottenham on Sunday, they are only three points ahead of 18th-placed Bolton.
The incident happened in the early hours of Tuesday after Villa's player of the year awards on Monday night.
McLeish said the players' actions had reflected badly "on Randy Lerner, the club, myself and, most importantly, themselves", but insisted the matter had been dealt with by the club.
"It's a slur on the club," he added.
"I think the most important thing is that they've been punished and they've shown a bit of humility, which is the least we can expect."
He added that the three "owed" the club and would need to "give us a performance that we will be proud of" if selected for Villa's game with Spurs.
In a statement, defender Collins said: "I let myself get into a position in which I didn't act responsibly and I apologise for this.
"It was Monday night, it was early in the week and I didn't have training the next day.
"But I know I've let myself down, I've let the club down, I've let the manager down and, most of all, I've let down the fans of Aston Villa, who have been great to me."
Midfielder Delph, who is currently out with an ankle injury, added: "I was sober, I was in control of my actions and I did try to calm down the situation.
"I didn't hit out or strike anyone but I should not have been there and I was wrong to be in this position."
Herd, who featured in last Saturday's 0-0 draw against West Bromwich Albion, added: "My actions on the night were out of character.
"I'll do everything I can to make it up to the club and the fans, as they have been fantastic since I've joined the team."
A club statement said the matter was dealt with internally on Tuesday.
"The fines are being split between two charities the club are promoting at the game against Spurs on Sunday - Cure Leukaemia and Anthony Nolan," it added.
"As a club, the players, management and fans are completely focused on Sunday's game against Spurs at Villa Park."
Villa are 15th in the Premier League table on 37 points, three points clear of the relegation zone with two games remaining.