No surprises in 2013 Nations Cup venue selection
By Mohammed Allie
BBC Sport, Cape Town
Last updated on .From the section Football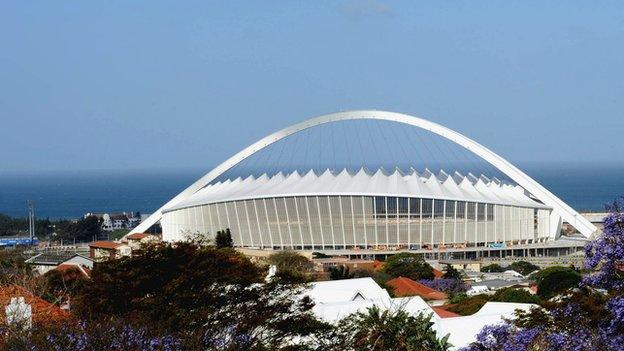 So after two - arguably three - false starts we finally know which cities will host next year's Africa Cup of Nations.
Durban, Nelspruit, Rustenburg and Port Elizabeth have been chosen - while Johannesburg's FNB Stadium will stage only the opening game and final, as it did during the 2010 World Cup.
That Johannesburg will only stage two games - and Cape Town's high profile but underused stadium none at all - will raise eyebrows, but their exclusion comes as no surprise.
It was after all their municipalities who refused to sign agreements with the Local Organising Committee (LOC), after suggesting the cost of around $3million was beyond their means.
The fact that Cape Town is the only metropolis not controlled by the ruling African National Congress has also not helped its cause.
But it is finance which has proved to toughest problem - and led to the considerable delay in naming the venues.
Sports Minister Fikile Mbalula took the matter to cabinet in an effort to secure government funding and guarantees, but it is clear that government is not in a position to commit serious funding to the tournament.
The government's coffers are currently under severe strain, particularly following protests against the introduction of electronic tolling on Johannesburg's extensively improved freeways.
The introduction of the toll system has been postponed by the courts, leaving the state treasury with a serious headache as to how to fund the R20 billion (about $270 million) loan taken out by the Gauteng provincial government to fund the road construction.
That means that other sources of funding for the Nations Cup will have to be explored - and the government has promised to work with sponsors to raise the cash.
The cities which have been chosen mean most games are likely to be played in the late afternoon or early evening, because temperatures in Durban, Rustenburg and Nelspruit can soar to above 40 degrees celsius during January and February.
Durban's humidity will also prove to be a challenge for the players.
All the host cities have world class infrastructure and stadiums that have been bequeathed by the 2010 World Cup and for cities like Port Elizabeth and Nelspruit in particular, who have no Premier League teams based in their cities, hosting the Nations Cup will provide a welcome opportunity to utilise their facilities.
The major concern for the LOC now is to find ways to attract fans.
They must also hope that Bafana Bafana undergo a massive improvement so that the home team remain in the tournament for as long as possible.