Rangers: Ally McCoist upbeat on Bill Miller progress
Last updated on .From the section Football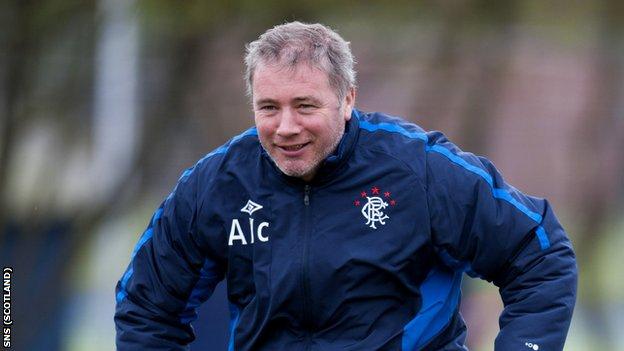 Ally McCoist believes the naming of a preferred bidder for Rangers is "a step in the right direction".
"Everyone is right to be wary of the situation, not of the person," said McCoist. "It's definitely a step in the right direction."
Miller has been vying with the Blue Knights consortium for the club.
The two had been battling for preferred bidder status and, ultimately, control of the SPL giants.
Miller aims to form an "incubator" company that would see the assets of Rangers transferred to a new firm.
His initial bid was dependent on the Scottish football authorities not imposing further sanctions on the club. But Duff & Phelps now describe the offer as "unconditional".
Administrators are scheduled to speak to Rangers players shortly to explain their contract situation to them regarding what happens under a newco scenario.
On the issue of player contracts, McCoist said: "There would have to be a decision made by the powers that be. But it's far from clear cut.
"It would be a devastating blow. We're all assuming that the players would leave this club, that might not be the case.
"There are a lot of players here who understand what this club is all about. Not all players want to run and take a fast buck.
"All players understand they have to look after themselves & their families. However to suggest that there is no loyalty is not right."
McCoist said he had been impressed during his discussions with Miller, adding: "He's a successful businessman & has asked lots of questions.
"The biggest positive step is of course someone coming in to buy the club. There is a long way to go, but this is us moving forward."