FA Cup final: John Terry wants Chelsea to win cup for Di Matteo
Last updated on .From the section Football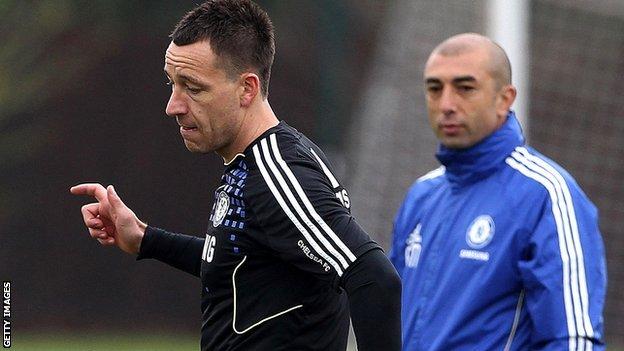 Chelsea captain John Terry has urged his team-mates to win the FA Cup for interim manager Roberto di Matteo.
"To win [the cup] will put himself in a very good position," the 31-year-old defender explained.
"If we can do it with the added bonus that Robbie can get the job at the end, that'd be great."
Di Matteo, 41, won the FA Cup twice as a Chelsea midfielder in 1997 and 2000.
The Italian coach has previous managerial experience at Milton Keynes Dons and West Brom. He was promoted from Chelsea assistant manager to take charge at the Stamford Bridge following the departure of previous boss Andre Villas-Boas in March.
Under Di Matteo the Blues have enjoyed good form, reaching the finals of the FA Cup and the Champions League and remaining in contention for a top-four finish in the Premier League.
Terry was full of praise for the current manager: "He's very passionate, he's Chelsea through and through, and that's certainly rubbed off on the players.
"He's obviously done very well in the league and all competitions to get us where we are today."
While Chelsea are in good form in league and cup competition, Liverpool have stumbled in recent weeks.
Since winning the Carling Cup at Wembley in February, the Reds have lost seven league games and go into the FA Cup final on the back of a 1-0 home defeat by Fulham.
Yet Chelsea and Liverpool have a rivalry in cup competition, and Terry is keenly aware of the opposition.
"There have been some good games, some good rivalry as well between the two sides and, obviously, both clubs and sets of players know each other very well", he said.
"They've rested a few players in the week, very much like ourselves. So both sets of players are going to be fit and ready to go."
Di Matteo insisted he is focused on Saturday's fixture above all else, and is intent on trying to secure another piece of silverware for the club.
"We always had difficult games against Liverpool. They're a good side with excellent players," he said.
"We'll have to be very, very good tomorrow.
"We want these guys to win. That's what matters to us. That would be the biggest satisfaction for the coaching staff."
As for his future at Stamford Bridge, the Italian coach was non-committal.
"People can speculate, write and say whatever they want.
"My position hasn't changed from day one. I know what I have to do from now until the end of the season.
"I'm just thinking about tomorrow's game and bringing a trophy home."