Martin O'Neill backs James McClean for Euro 2012 selection
Last updated on .From the section Euro 2012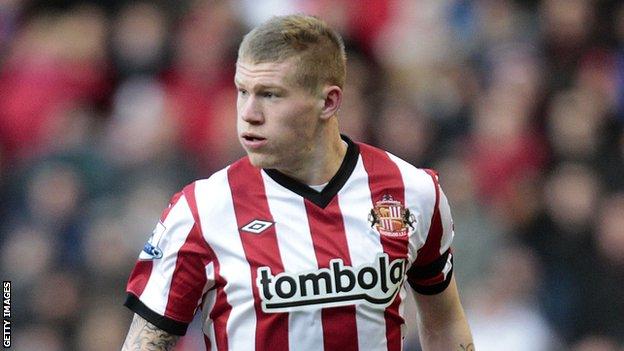 Sunderland manager Martin O'Neill says James McClean will "not let Giovanni Trapattoni down" if the winger is included in the Republic of Ireland's Euro 2012 squad.
Republic manager Trapattoni names his squad on Monday and the big talking point is whether emerging McClean will be included.
"I would be advocating James to join the Republic of Ireland squad absolutely," said O'Neill.
"Nothing will faze James."
O'Neill added:"I'm not in a position to tell Trapattoni what to do.
"He has done marvellously to get the Republic of Ireland through the Group and therefore those players who can gone and done something for him, I can understand that loyalty.
"But James will certainly not let him down."
O'Neill insisted that the Derryman could be more than "a bit player" in the Republic's campaign next month.
"I actually think that he could become a significant part but that's entirely up to the manager."
Last week, Trapattoni appeared to suggestion that McClean had a "90 to 99 per cent chance" of being included in the squad but a translation of the Italian's comments later cast doubt on the initial reports.
McClean, who was capped for the first time at senior level in February, was signed by former Black Cats manager Steve Bruce for a bargain £350,000 from Derry City last summer.
The Derryman did not get his chance in the Barclays Premier League until O'Neill's first game at the helm against Blackburn on 11 December, when his introduction as a substitute helped inspire a comeback victory.
O'Neill said: "Particularly when he came on against Blackburn, it seemed a pivotal moment.
"He electrified the crowd and really, he hasn't allowed his performances to drop too much since then. In fact, I think he has surpassed expectation.
"It's been three and a half months of just excellence from him, and naturally I'm delighted."