Man City boss Roberto Mancini's 'easy' insult riles Swansea
Last updated on .From the section Football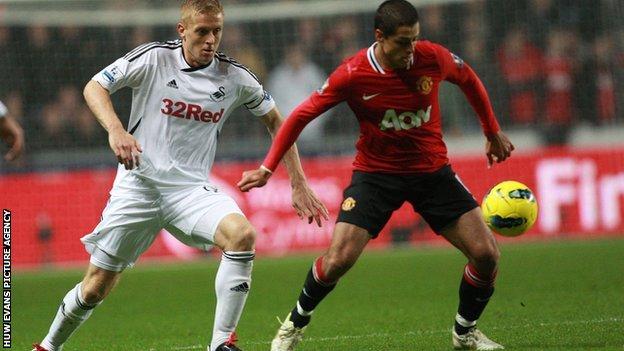 Club captain Garry Monk has accused Manchester City boss Roberto Mancini of insulting Swansea City as they prepare to face Manchester United on Sunday.
After that 1-0 victory, Mancini said United facing the Swans would be "easy" for the defending champions.
"If you're a Swansea fan or, like ourselves, you'd find it quite insulting," admitted centre-back Monk.
"But I know he's saying that because he's trying to play a bit of a mind game."
Mancini's City lead United on goal difference and they travel to Champions League-chasing Newcastle United and host relegation-threatened QPR while United host Swansea and visit mid-table Sunderland in their final two games of the Premier League season.
"He's trying to relieve the pressure off his own players and trying to put pressure onto Manchester United saying they're easy games," added 33-year-old Monk.
"Or maybe he's trying to motivate us.
"We don't need motivating. We know what a big game it is. It's one we've been looking forward to, our fans have been looking forward to, since the fixture list came out.
"Whatever Mancini says I think it's between him and Sir Alex Ferguson, we'll leave them to it and take it with a pinch of salt. If we're at our best we can give Manchester United a good game.
"But they're going to be firing and trying to score as many goals as possible so it's going to be a difficult day for us but one we're looking forward to."
Swansea, however, beat Manchester City 1-0 when the sides met at the Liberty Stadium in March - and defender Alan Tate pointed out: "If it was that easy how come they didn't beat us? It is not an easy game for United.
"We don't go out to stop teams, we go out to try to win games and let teams worry about stopping us."
The Swans, who sit 12th in the table, have impressed in their Premier League debut with victories over title contenders Arsenal and City and creditable draws with Chelsea, Tottenham Hotspur and Liverpool.
Brendan Rodgers's team secured their Premier League status last weekend with their draw against Wolverhampton Wanderers - and the Swans boss said: "It certainly won't be an easy game and I think he knows that.
"He came here when we won the game 1-0 and we were clearly the better side and that was after Roberto spending about £235m on a team."