Hodgson as good as Redknapp says West Brom's Downing
Last updated on .From the section Euro 2012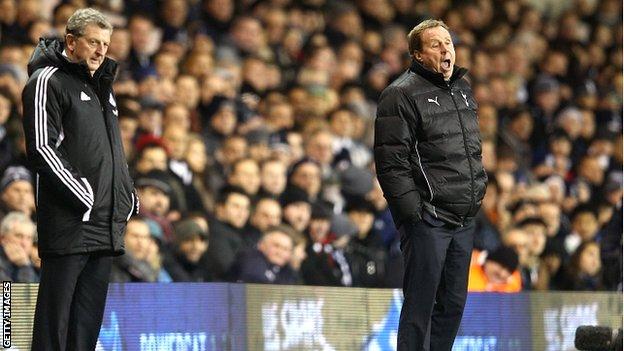 West Bromwich Albion assistant boss Keith Downing believes Roy Hodgson's achievements as Baggies boss are on a par with Harry Redknapp's at Tottenham.
Redknapp was tipped to become England coach but Hodgson, who has guided West Brom to 10th in the Premier League, was appointed on a four-year deal.
"There was a mass public demand for Harry and rightly so," Downing said.
"Roy's work has been really intense. He's been very focused. His job has been equally impressive."
Hodgson took charge at West Brom in February 2011 after Roberto Di Matteo, now interim Chelsea boss, was sacked following a run of 13 defeats in 18 matches, and lifted the club to a respectable 11th place finish.
"He's kept this club up and established it as a Premier League side," Downing said.
"And he did that at Fulham. His CV is excellent and he should be considered. I just hope people will give him the opportunity, though I know it's the toughest job in the world. Let's see how he does. The low expectancy might help him.
"Roy is his own man and he'll make the players realise what he wants to do, and they will adhere to it.
"He's got a wealth of stories: Inter Milan, Switzerland, Malmo. We do sometimes had a chuckle. He's dealt with some big players and his CV is fantastic.
"There's a warmth about him, and it's not just football, football. He has an interest in your family life and how things are going. He's a fascinating man and a lot of the players enjoy his company. He's interested in people."
The new England boss will take charge of West Brom's final two matches of the season, at Bolton on Saturday and at home to Arsenal on 13 May, before his first match at the England helm, against Norway on 26 May.
Meanwhile, Chelsea and England midfielder Frank Lampard has lent his support to the new England boss.
"It's a very good appointment," the 33-year-old said. "He is a very experienced manager - with international experience and club football experience. He seems a very educated man and completely fits the role very well."