Rangers likely to stay in SPL, says Michael Johnston
Last updated on .From the section Football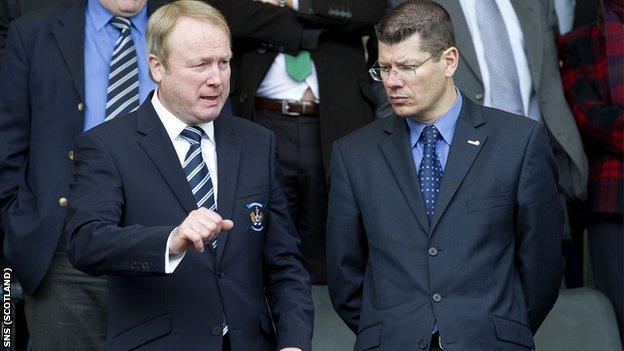 Scottish Premier League clubs are seeking more information on preferred bidder Bill Miller's plans for Rangers.
But Kilmarnock chairman Michael Johnston thinks it is likely they will remain in the top flight, even if it is in the guise of a newly formed company.
"Members see the commercial benefits of having Rangers, even as a newco," Johnston told BBC Scotland.
"The clubs are mindful of a sporting integrity aspect but the commercial benefits may outweigh that."
Rangers, who have been in administration since mid-February, could soon be in the hands of Miller after the American was named as preferred bidder instead of rival bidders, the Blue Knights.
Miller plans a transfer of the Ibrox club's assets to an "incubator" company while issues relating to the existing business are resolved, with the intention of combining the two concerns at a later date.
The SPL delayed a vote on new financial fair play rules until Monday, with proposed resolutions including a 10-point penalty for two seasons imposed on any club that is relaunched as a newco.
If approved, the new measures would take effect from 14 May.
"We need more talks before we can move on," explained Johnston.
"There are still lots of discussions to be had with the SPL and with Bill Miller over his plans for Rangers.
"We need more clarity on his plan and how it will be structured."
The current rules stipulate that the SPL board would decide whether a member club was able to transfer its share in the league to a new company, with no facility in place for an automatic demotion to the Scottish Football League.
Should a relaunched Rangers be unsuccessful in their attempt to gain an SPL place, they would have to apply for a vacancy in the SFL and, if successful, work their way up from the Third Division.
Rangers manager Ally McCoist accepts there is likely to be opposition from fans of other clubs should the Ibrox side remain in the SPL as a newco.
But he contended: "I totally understand their opinion but the harsh reality is that their clubs might go to the wall if we go to Division Three.
"That in no way, shape or form should be looked on as me making some sort of threat, far from it. I can totally understand the opinion of the supporters of other clubs saying we should be punished and maybe put down another couple of divisions.
"But, in many ways, they should be careful what they wish for because would four or five of the clubs in the SPL survive? I'm not so sure.
"They're being very, very naive if they think that won't damage Scottish football. If the money went out the game from Rangers' travelling support, from television, I think some other clubs might be in trouble."