Arsene Wenger unhappy with Arsenal performance
Last updated on .From the section Football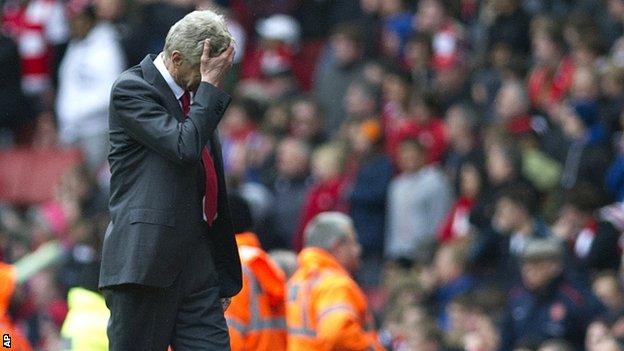 Arsenal boss Arsene Wenger criticised his team's performance as they lost the initiative in the race for third place and a spot in the Champions League.
Victories for Tottenham and Newcastle on Sunday could see Arsenal slip to fifth with one game remaining.
"There is no obvious reason because we prepared normally as we always do, and maybe subconsciously we thought we would win it," Wenger said.
"In the end we got punished for our mistakes. We have to analyse the reasons why we were not sharp enough in the first half."
Norwich led 2-1 going into the final quarter of the match, but Robin van Persie's double put Arsenal ahead only for Steve Morison to score a late equaliser for the visitors.
The draw extended Arsenal's winless run to four matches.
Wenger accepts Tottenham and Newcastle must now slip up for his team, who travel to West Brom on the final day, to finish in the top four.
He added: "It is more than frustrating because we were very poor in the first half, not switched on.
"We gave them a third goal in a situation that was absolutely unbelievable. In the end we got punished for our mistakes.
"We have to wait for the results to see where it leaves us. We knew that if we didn't win, that would happen, that it's not in our hands."
Wenger also had to cope with losing defender Bacary Sagna, who will miss Euro 2012 after breaking his fibula.
Wenger said: "It's the same leg (that he broke in October).
"He was kicked on it, it has not happened alone.
"When he was kicked, he has broken the leg. The guy closed him down and walked on him. I don't know if it was deliberate or not."