Kenny Shiels proud of Kilmarnock's achievements
Last updated on .From the section Football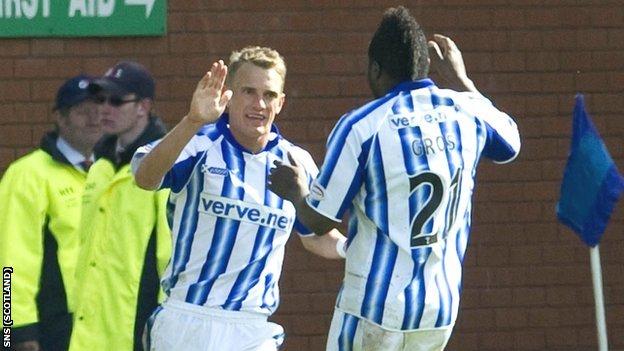 Kilmarnock boss Kenny Shiels was in a positive mood after his team's Scottish Premier League 1-1 draw with Aberdeen helped to cement their league placing.
"Our ambitions are to finish in seventh position," said the Northern Irishman.
"If we can beat Dunfermline, we finish seventh and we have won the League Cup. It's been an amazing season.
"Today we clinched the position of finishing above Aberdeen and Hibernian. It's a great achievement when you look at the infrastructure of those clubs."
Eighth-placed St Mirren lost at home to Inverness, leaving seventh-placed Kilmarnock two points ahead of the Buddies with a game to play.
Shiels added: "We certainly didn't have a foundation to build from at the start of the season but we got it together and got a few results.
"Obviously there have been bad days but you are going to get inconsistency.
"There has been so much history created this season and where we came from at the beginning of the season you would never have thought those achievements were going to happen.
"I am delighted for the club."
The Killie manager praised Aberdeen for their performance at Rugby Park, describing them as "tremendous".
"They really worked hard for their manager today. They had an energy about them," he said.
"They gave us problems but we got ourselves back into the game.
"Dean [Shiels, his son] scored again; it's good for him to get 15 goals from midfield."
Earlier in the day, had told BBC Scotland that, while he wanted to know more details about Bill Miller's bid to buy Rangers, he felt it likely that the SPL board would vote to keep a "newco" version of the club in the top tier.
"The clubs are mindful of a sporting integrity aspect but the commercial benefits may outweigh that," he said.
Asked for his thoughts on Johnston's remarks, Shiels said: "There are a lot of experts talking about Division Three but that's not even a consideration.
"Rangers will be in the SPL next season. I'm not an intelligent man but everybody knows that's going to happen so let's get on with it."