Rangers manager Ally McCoist in the dark about job future
Last updated on .From the section Football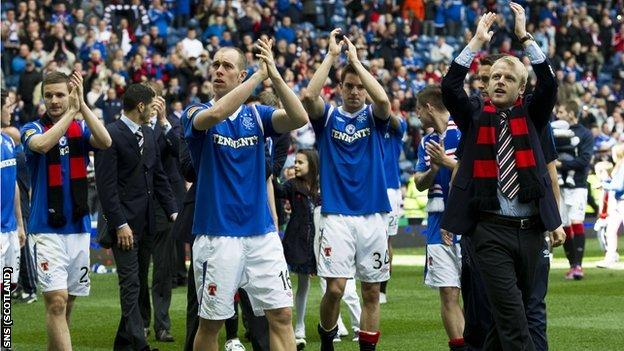 Rangers boss Ally McCoist has received no assurances over his position from potential new owner Bill Miller.
Miller, who has been named as preferred bidder, plans to transfer Rangers' assets to a new company while the club's existing debts are resolved.
"I've spoken to Bill on numerous occasions," said McCoist after the
"He knows that I'd be very keen to do it [remain as manager] but that's his right, if and when he buys the club."
McCoist was promoted to the manager's position last summer after serving as previous incumbent Walter Smith's assistant for over four years.
"If I was buying an organisation, I'd want somebody in that I could trust and I would feel would do a good job," McCoist said.
"He'll be absolutely no different."
Meanwhile, McCoist understands the anxiety of fans as they face up to the prospect of a second takeover in the space of just over a year, with the club having entered administration several months after Craig Whyte resumed control last year.
"I think the reaction overall is one of pleasure," said McCoist of the response to Miller's status as preferred bidder.
"But, at the same time, we've been through a lot this season and we've had to pick ourselves up off the canvas a couple of times so we don't want to get carried away.
"It's obviously a step in the right direction because we have been waiting on the step being taken of the administrators appointing a preferred bidder. That has now happened, it's a positive. We just hope it's a step to the club being bought over.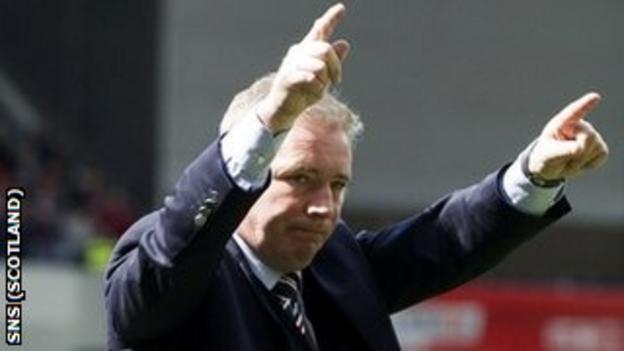 "The supporters are 100% right to be wary, of course they are. After what's happened to the club, everybody's wary.
"What we have to do is support the potential purchaser. I'm the same as the supporters, I just want a happy ending."
Sasa Papac waved farewell to the fans after Rangers' final home match of the season against 'Well, an encounter McCoist described as an "end-of-season game", and the manager is unsure what players he will have to work with should he remain as boss.
Experienced defender Papac will leave when his deal expires this summer and others, like Sone Aluko, are also soon to be out of contract.
And there is a grey area over whether players who are under contract are automatically retained in an asset transfer, with union PFA Scotland believing squad members would have the right to walk away.
"All I understand is that that's not the belief of the administrators," explained McCoist.
"That is obviously up for debate, that might be a legal issue. I don't know but I don't think it's clear-cut at the moment."
McCoist described supporters' backing during turbulent times as "humbling" and thanked the fans, adding: "They have been absolutely fantastic."