Sheffield Wednesday boss Dave Jones aims for double promotion
Last updated on .From the section Football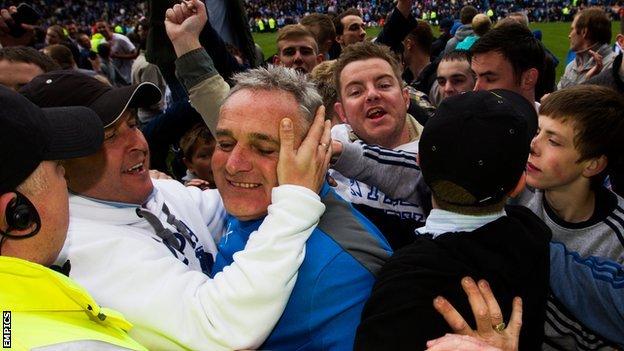 Sheffield Wednesday manager Dave Jones believes his side will be pushing for a second promotion in a row next season.
The Owls beat Wycombe to return to the Championship, but Jones believes the club has the potential to move on and compete for a Premier League place.
"I arrived 12 matches ago and my remit from the chairman was promotion. Anything else would've been a failure," Jones told BBC Radio Sheffield.
"Knowing the chairman, next season will not just be about survival."
He added: "I was coming into a situation where the club was doing reasonably well but the chairman felt they were starting to slip and they needed an impact.
"I tried to instil a belief into the players that we could do it, right from day one.
"We were gearing up for the play-offs but after we started to claw points back, the last thing I wanted was to take our foot off the gas.
"This club's been in the doldrums but when you see this place rocking it's frightening.
"The fans deserve their day and when you have suffered the bad days, you enjoy the better ones."
The Owls have won 10 matches, drawn two and lost none since Jones replaced Gary Megson as Wednesday manager at the start of March.
Jones believes chairman Milan Mandaric will expect his club to be near the top of the Championship next season and follow in the footsteps of Norwich City and Southampton, who moved from League One to the Premier League in two years.
"The potential here is unbelievable," added Jones. "When you see 38,000 home fans, and they could've sold another 15,000, that shows the potential.
"I've had many chats with the chairman, he has a vision and it's up to me to draw up a plan.
"It's going to take a lot of hard work. Southampton and Norwich have been building for a number of years and I've just started but we will see.
"Not many managers can say we've won promotion and not lost a game. It's only 12 games but I will take that."