John Barnes wants Kenny Dalglish to get more time at Liverpool
Last updated on .From the section Football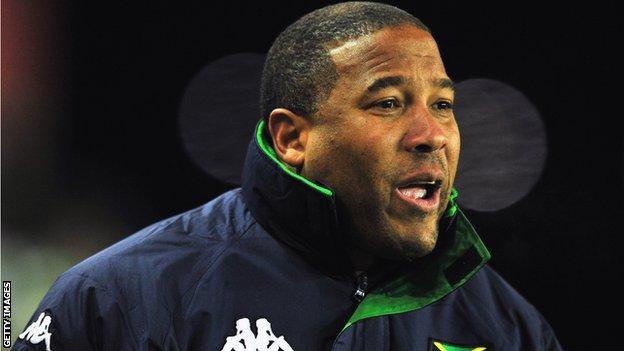 Liverpool legend John Barnes says manager Kenny Dalglish should be given time to turn the club's fortunes around after their FA Cup final defeat.
means the Reds only have a Carling Cup win to show for a disappointing season.
"If there is a club who will support a situation it will be Liverpool. There will not be a kneejerk reaction," he told BBC Radio 5 live's Sportsweek.
"People are too quick to change managers and demand instant success."
Liverpool, who sit in eighth place, are at risk of recording their worst top-flight finish since the 1953-54 season, when they finished bottom and were relegated.
The club's American owners have previously assured Dalglish he has their full support, but there has not yet been a public assurance he will be in charge next season, casting some doubts over his long-term future.
Barnes, who managed Celtic alongside Dalglish for seven months in 1999-2000, believes there have been signs of improvement in recent weeks that suggest Liverpool will be stronger next season, and feels changing manager for the third time in as many years would only be counterproductive.
He said: "If a new manager comes in and says 'I need £200m to spend because this team is not good enough', and if that does not work and a new manager comes in, there has to be a point where a club says 'it has not worked but we have to stick with this until it becomes apparent that it definitely is not going to work'.
"One year, or six months, is not a long enough period of time.
"The league form has obviously been disappointing but the performances of the players they have paid a lot of money for have been improving.
"I am taking heart from what I have seen in the last two months from individuals."
Part of Liverpool's struggles this season could be attributed to big-money signings Andy Carroll,Jordan Henderson and Stewart Downing failing to perform to expectations.
Barnes, who spent six years at Watford before joining Liverpool in 1987, feels they may have moved from their respective clubs too early, but has faith in them to prove their value to the club in the coming seasons.
"What is happening these days in football is that players have one season at a club and show great potential but they are then catapulted to a big club and suddenly expected to do well," he said.
"It hasn't worked in the first year but they have only had one year at the club and so I would say give them time because they have both played well in the last couple of months."