Bacary Sagna unhappy with Bradley Johnson challenge
Last updated on .From the section Football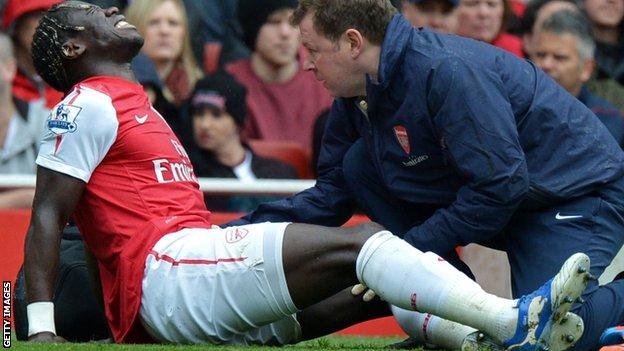 Arsenal defender Bacary Sagna has accused Norwich City midfielder Bradley Johnson of deliberately stepping on his leg shortly before he broke his fibula.
"I think he did it on purpose," Sagna told French newspaper L'Equipe.
But when asked about Sagna's claims, Norwich manager Paul Lambert told Sky: "There's nothing in that [challenge]."
Sagna fell to the ground unchallenged before being stretchered off in Arsenal's 3-3 draw against Norwich on Saturday.
He added: "He stepped on my leg. Play continues, I get back on my feet. And when I tried to control the ball, I felt a crack, just like the first time at Tottenham.
"He stepped right where the plate was. I think the plate pressured [the bone]. It's a neat break, just above the plate."
Arsenal manager Arsene Wenger believes Johnson's challenge contributed to Sagna's injury but stopped short of saying there was intent behind the tackle.
"The guy closed him down and walked on him. I don't know if it was deliberate or not,'' said Wenger.
Sagna insisted he would come back stronger from the injury.
"It's football," he said. "It has happened to others before me. I came back once, I will come back a second time, even stronger."