SPL board can't win over Rangers decision - Stephen Thompson
Last updated on .From the section Football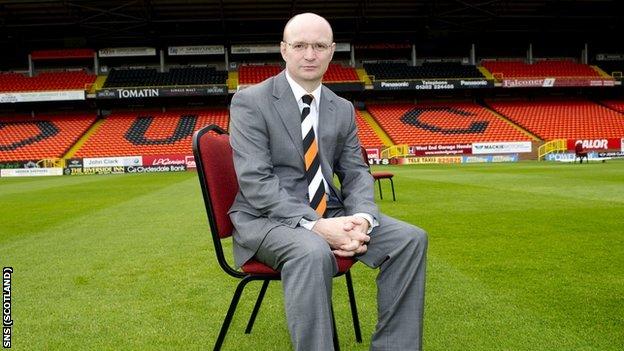 Dundee United chairman Stephen Thompson has spoken of the dilemma facing the Scottish Premier League board over what to do with a "newco" Rangers.
Thompson is part of the league's board that will vote on preferred bidder Bill Miller's proposal for Rangers to retain its place in Scotland's top tier.
"This season we got £1.4m from the SPL. If we only get £200,000 to £300,000, then how do we fill the £1m?" he said.
"But fans are talking about boycotts. It's a lose-lose situation."
The SPL clubs meet at Hampden on Monday to discuss financial fair play rules, to come into effect after this season, and changes to the voting structure.
Thompson and his board members will not have to vote on the Ibrox situation at that meeting, because no newco has yet been formed.
Duff & Phelps recently named the American Miller as the non-exclusive bidder for Rangers, who have been in administration since 14 February.
Current SPL rules state that, should a member club wish to transfer its share in the league to a new company, the decision to accept or reject lies with the board.
There is no facility in place for an automatic demotion to the Scottish Football League.
If the SPL board votes against Rangers being re-admitted as a newco, the club would have to apply for a vacancy in the SFL and, if successful, work their way up from the Third Division.
Many fans have contacted BBC Scotland and posted opinions on fans' message boards saying they believe a newco Rangers being admitted to the SPL would signal the end of their interest in the Scottish game.
Sporting integrity would be damaged beyond repair, they argue.
Thompson is mindful of these opinions and is weighing them up against the financial realities of running a club and helping to operate the SPL.
He told BBC Scotland: "Everyone is entitled to their opinion. I am finding it very stressful, as are most of the board.
"We are in a very, very difficult situation and at a crossroads for Scottish football.
"I understand how all the fans feel and I have great sympathy for them.
"But I have a legal responsibility to run Dundee United and a legal responsibility as a director of the SPL.
"We've got to think about our own clubs and about the whole of Scottish football.
"It is impossible."
Tannadice manager Peter Houston told reporters that he favoured Rangers being in the top league.
"I think we need to keep Rangers in the SPL," he said.
"Supporters all over the country will disagree with me but being at the sharp end of it, with regards what it could do for Scottish football, we need them.
"If £600,000 was cut off my budget, I would have hardly anything left.
"I am just being honest. Rangers have to be punished, how I don't know but it wouldn't help us for Rangers to drop into the Third Division."
The United chairman said that he had received emails and letters from angry supporters warning him that they will stay away if a newco Rangers are voted back in.
"We've got to think about the fans: without fans you don't have a club," said Thompson.
"But you have all the contracts, we don't know where Sky and ESPN sit in all this. If we did it might make the decision a bit easier.
"We have put a lot of money in as a family. We can't continue to do that; no football club can continue to rely on one individual, as we've seen in the last few months.
"I am just trying to weigh up all the options before we make some decisions."
Thompson would not be drawn on how he plans to vote but did suggest that it would be preferable if the decision could be made by all clubs and not just the six-man board.
It comprises Thompson plus representatives of Celtic, Motherwell and St Johnstone, SPL chief executive Neil Doncaster and SPL chairman Ralph Topping.
"The pressure being put on four or five individuals is enormous and having the burden spread would be ideal so that we all make such a huge decision together," he said.
"But the articles are what they are, unless we are told tomorrow that we can somehow make it all 12 clubs, or 11, I suppose.
"I love my club. I will always do what's best for my club but I've also got an SPL board hat to wear.
"I am not wanting to show my hand yet because I am still mulling over everything. My mind is not made up."