Celtic manager Neil Lennon bemoans lacklustre players
Last updated on .From the section Football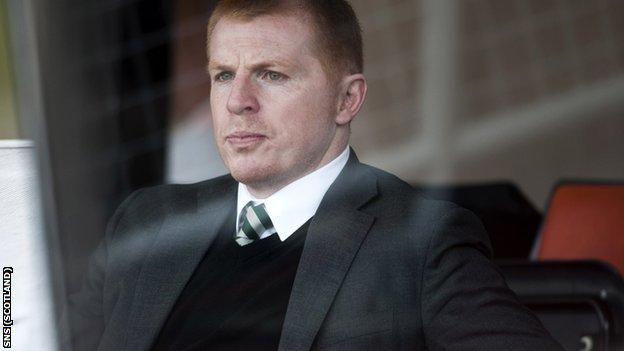 Celtic manager Neil Lennon believes some of his players were already in "holiday mode" following their 1-0 defeat by Dundee United at Tannadice.
Lennon's side sealed the championship titles four weeks ago, but he was upset at failing to avoid defeat in their penultimate match of the season.
"It's a disappointing result," said Lennon. "I thought we should have won the game."
"Our play in the final third was poor interms of the final pass and finish."
A headed goal from Scott Robertson in the 21st minute was the only one on the scoresheet as United held out to claim three points and secure a Europa League place for next season.
Robertson leapt above a sleeping Celtic defence to head past a static Fraser Forster, but Lennon felt his players should have been concentraing on keeping their strong run of form going until the season ends.
"I don't remember my goalkeeper having anything to do and the goal was poor, because we switched off to allow a player who was five foot ten a free header six yards out," said Lennon.
"I can't remember the last time we conceded from a corner - it summed up the day - I wasn't happy with the attitude of some of the players, some of them are in holiday mode already.
"The major disappointment for me is that we've lost our unbeaten record in the league."
Lennon also called for consistency from officials after Celtic appeared to be denied a late penalty when Emilio Izaguirre's cross hit the hand of Keith Watson.
"What do you want me to do, criticise the referee?," said Lennon. "I have a three-game ban hanging over me already.
"What is the difference between the penalty given against us in the semi-final and that handball today?
"He (referee Iain Brines) will just say it wasn't a penalty but I want to know what is the difference.
"Maybe I should ring John Fleming (the Scottish Football Association's head of referee development) tomorrow and ask him what is the difference because if they want to give them against us as a penalty, then that one today has to be a penalty as well. You've got to be consistent.
"I am going to get accused of being a sore loser or blaming referees but it's not the point, what I want is an answer and I don't feel I get them."
The Celtic manager was unable to single out exactly why his players had performed so poorly, but admitted that their performances over recent months to claim the title mitigated Sunday's defeat by United.
"There were too many touches on the ball, taking too long to get the ball forward," said Lennon.
"United had a gameplan to sit back and we had all the play. But, having said that, we missed good chances.
"In that ascpect, we were creating good chances, but we didn't have the final finish, but overall I can't criticise the players too much over the way they've played over the last six months."