Sir Alex Ferguson's admission shows signs of challenge ahead
By Alistair Magowan
BBC Sport
Last updated on .From the section Football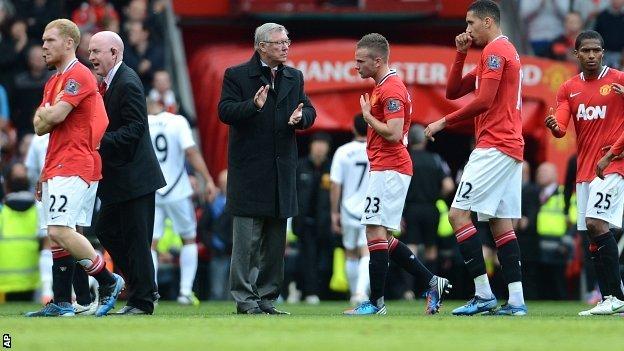 Sir Alex Ferguson is neither a desperate man nor somebody who concedes ground easily.
But the sounds coming out of Old Trafford on Sunday suggest that Manchester City's march towards their first Premier League title is causing the Scot more than a few headaches.
It is not just that City's game-changing win over Newcastle put them within touching distance of securing their first top-flight title in 44 years.
It was the manner in which Ferguson set up his team to face Manchester City last Monday and the fact the United manager admitted, before last weekend's games, the club he has done so much to revolutionise just cannot match City's monetary muscle.
The juggernaut from the east of Manchester is rolling across town at an alarming rate and if City do go on to win the Premier League next weekend, it could be a machine that will be hard to stop.
"No-one can match their financial resources, no-one," Ferguson said before his team beat Swansea. "We have to accept that and try to do things in a different way.
"We are good at bringing younger players through, so we'll stick with that, though whether there is a new Paul Scholes and Ryan Giggs out there is difficult to say.
"Players of that quality don't fall off trees."
Maybe we are getting ahead of ourselves.
Ferguson's insistence that he aims to sign up to three players this summer could put United back on track, should they yield the title.
And once United matched City's win on Sunday by beating Brendan Rodgers's side 2-0, it means only goal difference separates the two teams heading into the final weekend.
On Sunday, though, there was only a fleeting moment when United's belief in their own destiny began to return following Toure's two strikes against Newcastle.
Once Paul Scholes and Ashley Young scored before half-time, the Old Trafford crowd were roused and a team which has taken little notice of the unbelievable so many times before started to energise.
But following the surprising defeat by Wigan and letting a late lead slip to Everton, the size of the task appears insurmountable.
Indeed, after Chris Smalling headed over before the break and Javier Hernandez was off-target around the hour mark, the optimism soon subsided and fans were left staring at the reality facing them: City look likely to win the title.
Swansea played their part, of course, and although they were not as profligate as their hosts, they kept the ball as they have done all season, to check United's momentum.
Scholes, never a player to hide his emotions on the pitch, was a barometer of the mood inside the stadium.
Following his 28th-minute goal, he barely raised a smile, and as United's chances of adding to the scoresheet slipped by, he aimed a frustrated kick at Swansea's Joe Allen.
Despite still having a very realistic chance of retaining the title, subdued feelings remained at Old Trafford. And as the United players thanked their supporters on a muted lap of the pitch afterwards, it was left for Ferguson to attempt to rally the fans.
"Hopefully next week will be the biggest celebration of our lives," he said before his team head to Sunderland to face a side including five former United players.
Ferguson's final message was to another former apprentice, Mark Hughes, whose Queens Park Rangers side can play their part by attempting to thwart City at the Etihad Stadium, while retaining their Premier League status.
"You have to think there's hope," Ferguson said. "The way I look at it is, Queens Park Rangers have got to go there to survive. I just wish Sparky [Hughes] was playing.
"Of course City are favourites, no doubt about that. The crowd will be right behind them. They will be on to the referee as they were doing against us to make sure they win the game."