Frank Lampard urges Chelsea to offer Didier Drogba new contract
Last updated on .From the section Football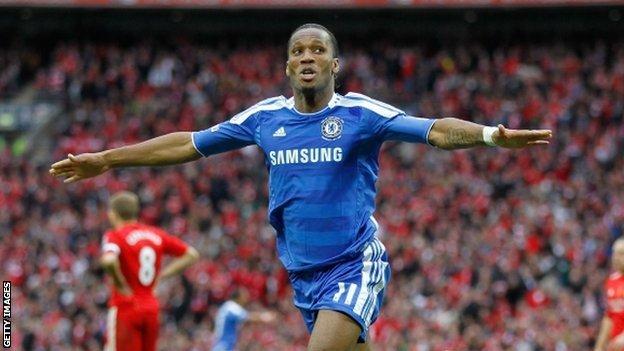 Chelsea midfielder Frank Lampard says the club must offer Didier Drogba a new contract after the "unique" striker helped them to win the FA Cup.
Drogba became the first player to score in four FA Cup finals when he netted the winner against Liverpool.
In December, the 34-year-old Ivory Coast striker rejected a one-year extension, saying he wanted two years.
"I'm desperate for him to stay. He is a magnificent player. He's a machine," Lampard said. "He's unique."
"He is not just that big man. He is such a handful. He scores goals that matter and that's priceless."
Drogba - linked with moves to China, the Middle East, France and the United States - showed his worth when he scored his eighth goal in eight Wembley appearances on Saturday.
Lampard said: "There is no-one like Didier as a player, not with the kind of bulldozer thing he has got and with his sublime touch and finish.
"Everyone has to move on at some stage and you have to find a different player or a different way of playing but for what he has done at this club, he deserves everything."
Drogba joined Chelsea for £24m in July 2004 from Marseille. He has since made 225 league appearances, scoring 100 goals, with another 56 goals in 115 cup games.
During this time he has won three Premier League titles, four FA Cups and two League Cups, as well as twice taking the Premier League Golden Boot.
Lampard said: "It's been a pleasure to play with him and it would be a pleasure to carry on playing with him because he gives defenders such a hard time.
"His body is a machine, when you look at him stripped down. He's lost no pace, he's lost none of his finishing instinct.
"As a man, I love Didier and whatever he decides to do, whether he stays or whatever, he has been a hero for this club and will go down as a legend."