West Ham United: Norwich & Swansea inspire Neil McDonald
Last updated on .From the section Football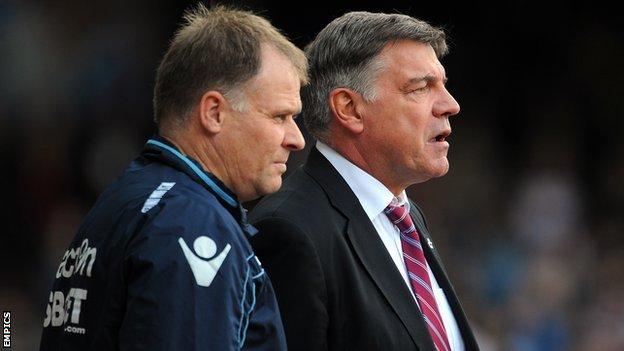 West Ham assistant Neil McDonald says the promoted teams this season can take inspiration from Norwich and Swansea.
The Canaries and Swans have both stayed up with Premier League games to spare after winning promotion last season.
McDonald's side face Cardiff on Monday in their Championship semi-final second leg, leading 2-0 from the away game.
"The inspiration is Norwich and Swansea to a certain extent. They have gone up and done fantastically well," McDonald said.
"Whether it is ourselves, Birmingham, Cardiff of Blackpool, they will have huge hope considering what has happened this season with Norwich and Swansea.
"We all hang on to that so if we do get promoted then we can do exactly the same."
Jack Collison's brace at the Cardiff City Stadium seems to have put the Hammers in control of the play-off tie.
But West Ham manager Sam Allardyce has experience of losing in a similar scenario before. His Blackpool team won 2-0 at Bradford in their Division Two (now League One) play-off away leg in 1995-96, but lost the home tie 3-0.
And McDonald accepts the job is not done yet for the Hammers, who missed out on automatic promotion on the final day of the regular season.
He said: "I think two goals away from home is fantastic and our home form over the last two months puts us in a good mood.
"I think the support we had the other night from the travelling fans was absolutely fantastic.
"I think that will bounce on to the home game and the whole place will be trying to take the roof off the stadium.
"It will make it an intimidating place to come to. There will be a fantastic atmosphere but it still won't be an easy game to get through.
"Planning and preparation is the key and we've done it in one game and hopefully we can do it in the second."
Cardiff manager Malky Mackay, a play-off winner as a Watford player, has not given up hope yet: "We need to score, not necessarily early on, but we need to score first.
"If we do that then we get a toe-hold back in the game again. We need to make sure we are disciplined going into the game. We can't have a tendency to go gung-ho from the first minute.
"People might want to go for it from the off, but we need to make sure that we're in the game.
"We know it's a stiff test but it's still only half-time. We've got to go there and ease our way into the game, looking to nick the first goal."