Euro 1972: West Germany sweep the continent on finals debut
Last updated on .From the section Euro 2012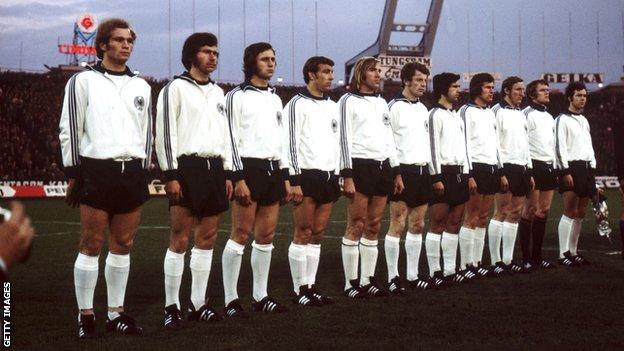 Paul van Himst is Belgium's all-time top goalscorer, but his most famous result, at least in most British eyes, came seven years after his international retirement.
Alongside Pele, Bobby Moore, Ossie Ardiles and Sylvester Stallone, he was part of a Prisoner of War XI who overcame the odds in Escape To Victory.
It may have been fiction but you could forgive Van Himst if he took a small piece of satisfaction from the film's outcome.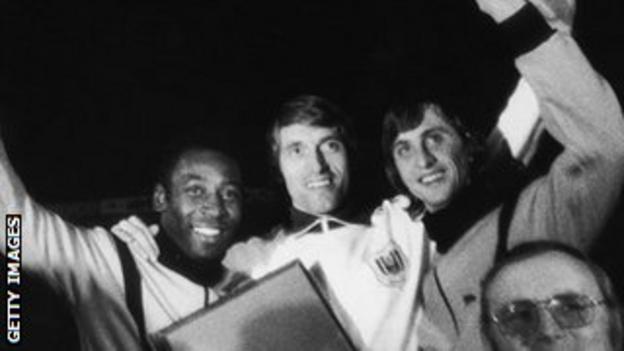 At Euro 1972, Van Himst had led out Belgium in front of a raucous crowd of his compatriots to take on highly fancied German opposition.
The 'Red Devils' had knocked out World Cup winners Italy in the quarter-finals in their last match and the omens were good because the host nation had gone on to lift the trophy in the two previous European Championships. In Antwerp though, unlike on celluloid, Van Himst's team could not follow a fairytale script to its conclusion.
West Germany won 2-1, via a double from Gerd Mueller, and deserved a healthier margin of victory.
"We always gave a good account of ourselves in those years in the big competitions but, once you arrive in the latter stages it's not easy," Van Himst told BBC Sport.
"I think we put in a good performance against West Germany. For us, we played a really good match, unfortunately we conceded two goals, but against teams like that..."
West Germany were taking part in the European Championship finals for the first time, having missed out in 1968, the first time they had bothered to enter, after drawing 0-0 in a decisive qualifying match in Albania - a side they had thumped 6-0 six months earlier.
They made no such errors in 1972.
They topped qualifying Group Eight before then seeing off England 3-1 on aggregate in a quarter-final in which playmaker Gunter Netzer shone at Wembley.
Until 1980 only four teams reached the actual finals tournament and, having negotiated their way past Belgium in the semis, captain Franz Beckenbauer led his side to a crushing 3-0 win over the Soviet Union to lift the trophy and start an era in which West Germany reached at least the semi-final stage in six out of seven tournaments.
"The Germans in 1972 - you can compare that team to the team that played the 1974 World Cup final against Holland," added van Himst.
"With Gerd Mueller, Franz Beckenbauer, Gunter Netzer, Sepp Maier in the goal, it was the best ever German team I think."
The fact that Belgium was the host nation can perhaps be understood by the fact that the tournament took place during a particularly chilly period of the Cold War.
The finals consisted of four matches - the two semi-finals, the third-place play-off and the final - with all hosted by one of the nations involved.
West Germany and the USSR were obvious potential flashpoints while Hungary, the other losing semi-finalist, was still behind the Iron Curtain.
"The big satisfaction for us was being able to play the semi-final in our country," added Van Himst.
"Now we no longer have the big stadiums to organise the big competitions, but in this era we did.
"The public was 200% behind us and everyone was happy for us, playing in Belgium, it was really something."
It was nine years after Euro 1972 that Van Himst took on the part of Michel Fileu in Escape To Victory.
Since the film wrapped, Van Himst has been kept busy, working as an ambassador for charity Born In Africa doing public relations for the Belgian Football Association and running a coffee business with his son, as well as watching his five grandsons represent Anderlecht.
But he is just as happy to be reminded of his acting days as his playing days.
"It was a beautiful experience," reflects Van Himst.
"I was in Hungary for five weeks because the film was made near Budapest. It was another world. For me in particular, everything was new.
"I went to see Manchester City against Manchester United earlier this season as a guest of Vincent Kompany's father and I saw [former Manchester City winger] Mike Summerbee once again, who was also one of the footballers in the film."
Perhaps it gave Van Himst the chance to reminisce about the time when he was in a team that managed to defeat the Germans.
Interview conducted by Sam Sheringham, translated by John Bennett