Juventus revel in redemption after their first Serie A title since 2003
By James Horncastle
European football writer
Last updated on .From the section Football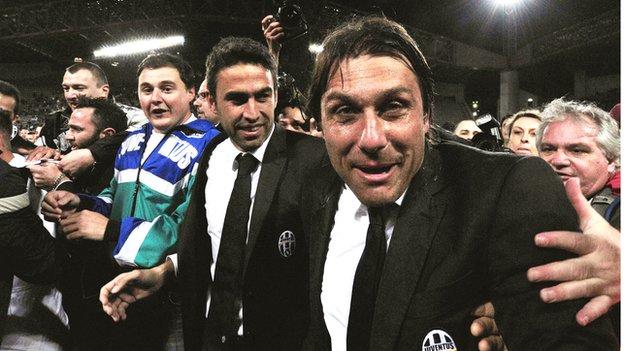 Juventus coach Antonio Conte gestured to his players from the sideline, holding up three fingers of his right hand and two of his left.
"It was like a Pope giving a blessing," wrote La Gazzetta dello Sport, describing the moment Conte informed his players that they were all but champions of Italy for the first time in nine years.
It signalled that, crucially, Inter had taken a 3-2 lead through Diego Milito's hat-trick in an enthralling Derby della Madonnina against AC Milan.
If the scores remained the same, Juve - who were 2-0 up in their match with Cagliari in Trieste - would seal the scudetto with a week to spare.
Shortly afterwards, word got round that there had been another goal at San Siro. Juventus fans have cursed Inter's full-back Douglas Maicon in recent years, but not any more.
His shot from outside the box, which made it 4-2 to Inter, was not the one famously heard around the world but it did travel from Milan to Trieste in double quick time and the celebrations really got going.
A pitch invasion ensued after the full-time whistle, several Juventus players were stripped to their underpants and handfuls of turf were ripped up as souvenirs.
Club President Andrea Agnelli summed up the mood when he tweeted: "From heaven to hell and back to heaven again." It certainly felt like that for the supporters.
Six years after Juventus were relegated for the first time in their history following the Calciopoli match-fixing scandal, they were Campione d'Italia again.
Five players in the current squad - goalkeeper Gigi Buffon, centre-back Giorgio Chiellini, full-back Paolo De Ceglie, midfielder Claudio Marchisio and captain Alessandro Del Piero - had stayed with the club in Serie B. For them, in particular, this was a special moment.
"It was to experience an evening like this that I stayed here in 2006," said a tearful Buffon. "It's the greatest joy I've felt in my life after winning the World Cup."
Amid the celebrations was the symbolic No. 30.
It featured on the cardboard tricolore Scudetto held aloft by the Juventus faithful and was on the labels of the champagne bottles used to toast their success.
The number is significant because it counts the league titles Juventus have won in their history, controversially including those from 2004-05 and 2005-06, which were revoked.
General manager Beppe Marotta has already revealed that the club have the "guile" to add a commemorative third star to their shirts [one for every 10 Scudetti], maybe even ahead of their last league match against Atalanta and the Coppa Italia final with Napoli.
Mindful not to provoke, Conte was less flagrant and more diplomatic. "For me, it's No. 1," he said, "because it's the first I have won as a manager."
Whatever anyone thinks of Juventus after the taint that came with Calciopoli, there is absolutely no doubt that they fully deserve this title.
If they can avoid defeat in their final game of the season, they will emulate only two other teams - Ilario Castagner's Perugia in 1978-79 and Fabio Capello's Milan in 1991-92 - in going unbeaten throughout an entire campaign.
That record is based on hard work. From the beginning of his tenure, Conte demanded his team "eat grass" and play with the "humility of a provincial club but the quality of a great one."
Like workers in one of the Agnelli family's FIAT factories, they have shown a blue-collar work ethic.
Eighteen different players have been on the scoresheet this term; everyone has made a contribution.
Players have adapted to the conditions in which they have found themselves, moving from 4-2-4 and 4-4-1-1 to 3-5-2 and 4-3-3, all the while maintaining the same philosophy of play-it-out from the back, keep the ball, create and protect the best defence in Italy.
And yet, this group of would-be bricklayers has had an architect too in deep-lying playmaker Andrea Pirlo.
Milan's decision to allow him to leave and join their rivals on a free transfer last summer could well be considered the hinge on which this title swung.
But Juventus are not 24 points better off than they were last year because of one man.
Several threads have come together to form a greater whole, such as the enthusiasm that has come from playing in a repeatedly sold-out new stadium to not playing in Europe and therefore being able to concentrate solely on the league.
A reconnection with their core values, from the return of an Agnelli as president two years ago, reaffirming the family's link with the club since 1923, to the appointment of former captain Conte last summer, has also been instrumental.
As Juventus re-establish themselves, thoughts inevitably turn to a member of their establishment, the legend that is Alessandro Del Piero, whose contract will not be renewed once it expires this summer.
At 37, one might expect this to be the perfect point at which to retire, but Del Piero wants to play on.
He has been "surprised" by Agnelli's decision not to grant him the dream of finishing his career at the club he loves, not least because, even though his role has been that of a bit-part this season, he has still scored important goals against Milan in the Coppa Italia, and Inter and Lazio in Serie A.
"I don't know how to imagine my future," he said.
"It's a huge change and it frightens me a little because it would be like leaving home a second time.
"But I am living it as if it were one of the video games I liked as a kid: it is a new level to complete."