SPL delay decisions on financial fair play and voting rights

By Chris McLaughlin
Senior Football Reporter, BBC Scotland
Last updated on .From the section Football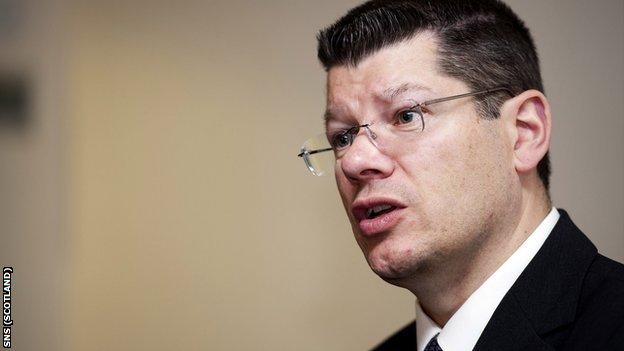 Scottish Premier League clubs meeting at Hampden Park have delayed voting on financial fair play rules until 30 May.
include the docking of 10 points for two seasons for clubs who wish to transfer their share in the league to a new company.
Dunfermline chairman John Yorkston said clubs were seeking more information.
Rangers, whose prospective owner Bill Miller is keen on a transfer of assets to a new company, did not attend the meeting but asked for the adjournment.
Administrators Duff & Phelps have selected American Miller as preferred bidder to take control of the Ibrox club and he plans to move Rangers' assets, including their share in the SPL, players and premises, to an 'incubator' company whilst the debts of the existing business are dealt with.
Under current guidelines, an application for transfer of share to a new company would be ruled upon by the SPL board, which comprises chief executive Neil Doncaster, secretary Ralph Topping, Celtic director Eric Riley, Dundee United chairman Stephen Thompson, St Johnstone chairman Steve Brown and Motherwell director Derek Weir.
However, an SPL spokesperson said the 11 member clubs present at Monday's meeting "unanimously called for the power to deal with any newco application to be moved from the board to the clubs".
"This requires 21 clear days' notice," added the spokesperson. "The clubs will therefore meet again on 30 May to consider a resolution designed to achieve this.
"In the event that an application for transfer of share to a newco is received before 30 May, then it can be dealt with by the SPL board.
"The SPL board have indicated that they would, in those circumstances, call together the clubs before any such decision was made.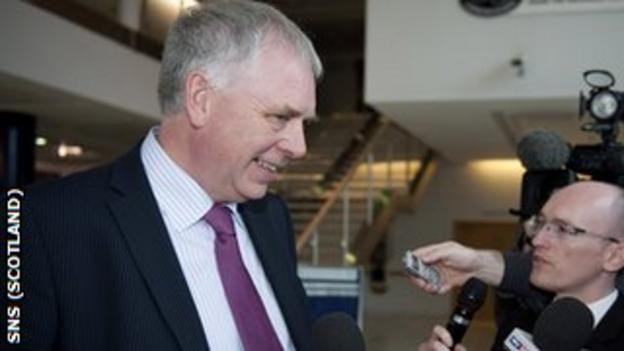 "For the avoidance of doubt, no decision on any transfer of a share to a newco has yet been made; nor has any such application been received."
The proposed new financial fair play rules, which also include a minimum 15-point penalty for any club entering administration and requirements for clubs to pay player wages on time, were due to take effect from 14 May had they been passed.
"It took a long time to not decide anything," said Yorkston.
"We need to know more information, we were hoping it would get resolved at this meeting.
"We all want to make quick decisions and come out with what the story is but we don't have enough information."
Top-flight clubs were also due to vote on whether to change the league's voting structure but that too has been delayed until the end of May.
A resolution has been proposed to replace the current 11-1 majority required to effect major changes with a 9-3 ballot.
"As administrators we have a duty to act in the interests of the club hence the reason for us tabling a proxy vote in case any decisions were reached," said Duff & Phelps after Monday's meeting.
"As far as voting on longer-term constitutional issues, we felt this is something that is more a matter for a new owner."