Gillingham players shoulder blame for promotion failure
Last updated on .From the section Football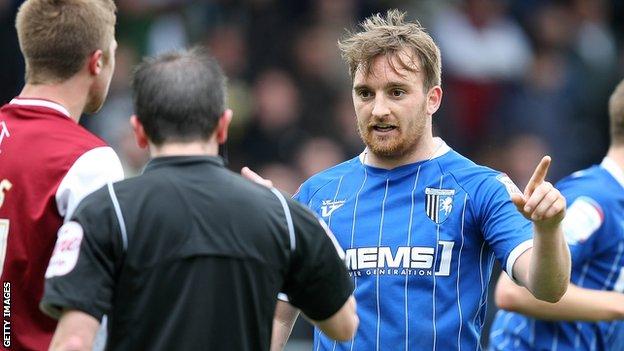 Gillingham midfielder Charlie Lee says the players blame themselves for the team's failure to gain promotion.
"We hold ourselves responsible. We weren't consistent enough," Lee told BBC Radio Kent.
"We came into this season full of confidence, maybe over confident, and maybe didn't give the league as much respect as it deserves."
He continued: "We beat Cheltenham and Torquay twice but dropped too many points against the boys who boot the ball and play rubbish football.
"Maybe that was the players' fault."
The Gills will spend a third straight season in the fourth tier of English football after finishing eighth in League Two.
And while manager Andy Hessenthaler has born the brunt of the criticism from supporters, but Lee believes the players must accept their share of responsibility.
"Obviously everyone holds the manager responsible," said Lee.
"He picks his team - but regardless of what that team is, the eleven (on the pitch) has got to win the game."
On Monday, Hessenthaler began discussions with chairman Paul Scally about both his and the club's future.
He admitted that he was unsure whether or not he would keep his job but acknowledged Scally would make an "honest decision."
Lee, meanwhile, is already focused on achieving promotion next season.
"We look at the group of players we'll have next year and we're very confident that we know what we're doing now," he added.
"We had a lot of people signed in the summer (last year). The chairman and the gaffer put a lot of effort in and got some real good players in.
"Hopefully we'll get a couple more in and we're very confident we'll have a really good squad and a have a real good go."