Senegalese federation plans tribute to late Bocande
Last updated on .From the section Football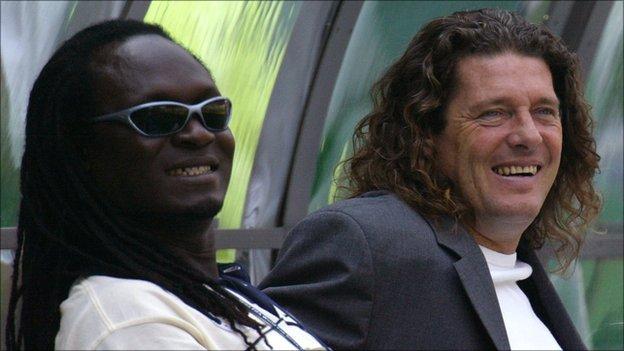 Former Senegal striker Jules Bocande died on Monday, the Senegalese Football Federation (FSF) has announced.
Bocande, 53, had been unwell for months after reportedly suffering a stroke and died following surgery in France.
"I'm totally devastated," said FSF president Augustin Senghor. "It's an enormous loss for Senegalese football."
Senghor says the FSF are considering naming the country's future technical centre after Bocande - "in memory of his job as a player and coach".
Meanwhile, Confederation of African Football president Issa Hayatou called the death another blow to African football after Rashidi Yekini died on Friday.
The Nigerian, who scored his country's first goal at a World Cup finals in 1994, passed away at the age of just 48.
The dreadlocked Bocande never played at a World Cup but he did play a major role in engineering Senegal's run to the last eight of the 2002 finals in Asia.
He worked as assistant coach to Frenchman Bruno Metsu as the Teranga Lions stunned the world by reaching the quarter-finals.
"Bocande revived Senegalese football," said Senghor. "He gave everything to Senegalese football through his talent and his commitment."
On the pitch, Bocande enjoyed his greatest success while playing for Metz, with whom he finished top scorer of France's Ligue 1 championship in 1985-86.
"Jules was the hero of not just Senegalese but also a lot of African players - and we were very proud when he was top scorer in France," former club colleague Jimmy Adjovi-Boco told BBC Sport.
The former Benin international, who co-founded the Diambars football academy in Senegal with Patrick Vieira, played alongside Bocande at Lens in the early 1990s.
"We know that he always gave 100% on the pitch but off it, he was such a nice guy - he loved life and we always had a good laugh when we were together," the Beninois said.
"He was such a hero in Senegal because he loved his country. When he was playing for the national team, he gave everything and people loved the fact that he never gave up.
"He was always talking about his country, his flag and he was proud of Senegal - and that is why people loved him so much."
Ironically, the Senegalese - who briefly coached his country for a spell in the 1990s - died in Metz after undergoing a surgical procedure in the city.
Bocande also played for Paris Saint-Germain, Nice and Lens in France, while participating at three Africa Cup of Nations finals for Senegal.
He captained the Teranga Lions as the Senegalese hosted the competition in 1992, only to bow out in the quarter-finals.