Promoted Bedworth United bloom for boss Steve Farmer
By Clive Eakin
BBC Coventry & Warwickshire
Last updated on .From the section Football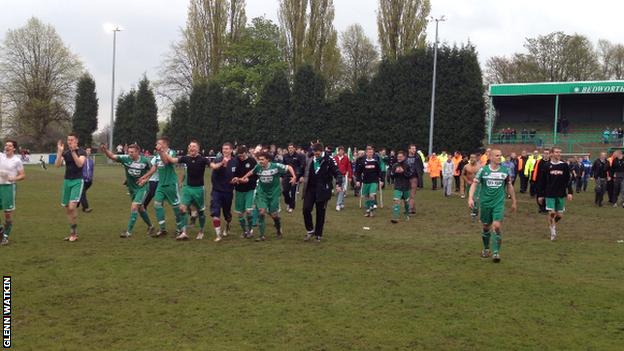 Bedworth United are celebrating their first promotion in the club's 65-year history as a semi-professional outfit.
The Greenbacks' 3-1 Southern League Division One Central play-off final win over Beaconsfield SYCOB secured a place in next season's Premier division.
Saturday's triumph brought ecstatic scenes on the pitch from a crowd of over 800 at the Oval.
And it was reward for Bedworth boss Steve Farmer, who has won promotion in his first season in charge.
The former Nuneaton Griff boss became Bedworth's youngest-ever manager after being appointed last summer at the age of just 30.
But Bedworth blossomed under their new boss, qualifying for the play-offs by finishing third in the division.
"He's definitely been the secret," Bedworth chairman Peter Randle told BBC Coventry & Warwickshire.
"Whether it's this game or the first game, it's no different to Steve. His work up to it is exactly the same. He's done a fantastic job."
Club captain Chris Tullin has been impressed with the manager's ambition.
"We've played the type of football that hasn't really been seen here before," he said. "It's something that the gaffer has put to us.
"All over the park, we attempt to play that football and we've got our rewards.
"He's brought in the type of people he wants, management, staff and the players.
"He's created the team from scratch. He's very meticulous at times and he wants the best and wants it to be perfect.
"It's a very proud achievement and all the lads are proud to be part of it."
"You have to pinch yourself to realise what we've just achieved," said Farmer. "It's just amazing.
"I'm really pleased for the fans and the chairman can enjoy it because he took a punt on a guy who was 30 years of age and only ever managed two levels lower who knew he could do it, but needed the opportunity to prove he could do it.
"I'm more made up for him that it's worked.
"Somebody said to me earlier if you don't win you can sit back and reflect on the season you've had anyway. I couldn't do that. I think we had some unfinished business."
Farmer is now hoping to keep the bulk of his squad together.
"If we didn't go up, I think the group would have broke up. I don't think it will now," he added.
"There's going to be lots of people interested in my players, of course there are. That's a compliment they get paid.
"But this group doesn't come along very often and I think you have to do your best to keep hold of them."