Ex-Rangers chairman cautiously welcomes Bill Miller bid

By Alasdair Lamont
BBC Scotland
Last updated on .From the section Football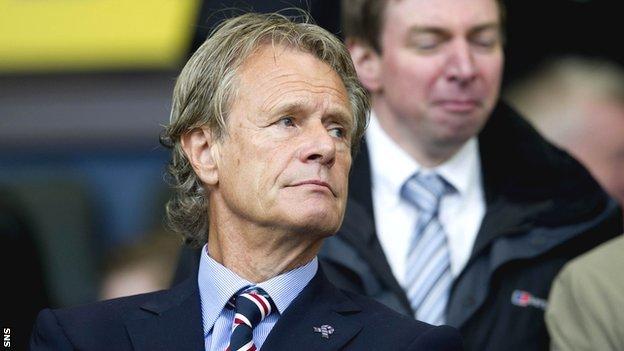 Former Rangers chairman Alastair Johnston, who led opposition to Craig Whyte's takeover of the club, has cautiously welcomed Bill Miller's bid.
But the United States-based Johnston says he does not yet have enough information on the American "to start jumping on any bandwagons yet".
Johnston says he will support anyone able to save the club.
But he added: "There's been no mention yet of any investment and how he intends to provide working capital."
Johnston has been using his own contacts in the media and sports business world to try to find out what tow-truck tycoon Miller will bring to Rangers.
Miller was involved some years ago in trying to launch a rival organisation, which ultimately failed, to Nascar (the National Association for Stock Car Auto Racing).
"I've spoken to people at Nascar and nobody there knew him," Johnston told BBC Scotland.
"His name was known at ESPN because he'd had talks there about television rights, but they didn't come to anything.
"I haven't been able to get any reassurances on what he's done, but he does have credibility in his own business.
"As to his motives for buying Rangers, well Rangers, historically, is a big institution, perhaps bigger than it currently really is given the position of Scottish football as a whole.
"So people would pay attention and it might appeal to someone who has a record of turning round ailing businesses."
Johnston has been critical of Sir David Murray's decision last year to sell to Whyte in a move that paid off the debt owed to Lloyds Banking Group.
"The devil will be in the detail," said Johnston. "The problem with Craig Whyte was how he was going to provide working capital and there's been nothing from Bill Miller as to how he will underwrite or invest in the club.
"My concern would be that the administrators are acting in the same way as David Murray and Lloyds did - looking at things with one eye shut."
Johnston also expressed concern about the speed at which Duff & Phelps was providing the police with information, a matter addressed by the administrator on Tuesday.
Strathclyde Police wrote to Duff & Phelps on Friday asking for any and all information it believes may be of interest to the police.
In February, Johnston asked the authorities to examine the circumstances of Whyte's takeover.
Sale Sharks owner Brian Kennedy had first been involved in a sole bid for the club then joined forces with the Blue Knights consortium led by former Rangers director Paul Murray.
Now that Miller has been given preferred-bidder status, Kennedy's latest involvement was to hold discussions with Whyte over the possibility of acquiring his shares, something that would help smooth a takeover.
"If Brian's initiative was productive then I would welcome that," added Johnston.