Chief executive David Roberts proud of Wrexham progress
Last updated on .From the section Football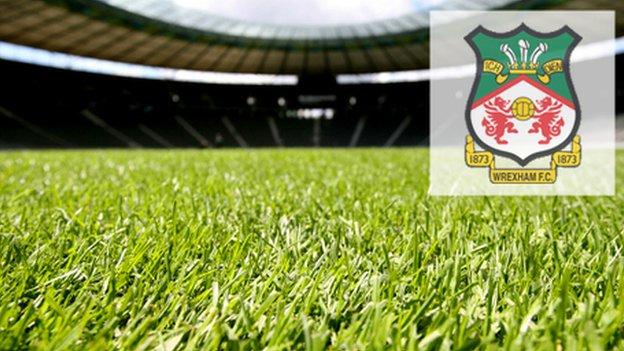 Chief executive David Roberts says Wrexham can be proud of their achievements this season despite the play-off disappointment.
Roberts revealed the club missed out on £600,000 worth of funding by failing to secure a Football League return.
"Obviously there's disappointment but we have to pick ourselves up and go again ready for next year," he said.
Wrexham's very existence was in doubt at the start of the season with players not paid and two pre-season friendlies postponed after ex-owner Geoff Moss said he had no more money to inject.
Fans rallied to raise money to pay the wages and for a bond to satisfy the Football Conference that the club could complete the Blue Square Bet Premier season.
And a long drawn out takeover of the club was completed last December when the Wrexham Supporters' Trust were confirmed as the new owners.
Roberts says the club have come a long way since last summer's troubles but added there is still plenty of work over the coming months.
"The very fact we have a football club here is testament to the hard work that's gone in from everybody involved with the club be that players, management, supporters," added Roberts.
"Everybody's pulled together in the club's hour of need from the very start in August when we had to raise over £100,000 in 24 hours to even start the season.
"What's been achieved has been really incredible.
"We've made great strides over the course of the past few months. Obviously the FA Cup run has helped and the player sales we had in January.
"We've still got a long way to go to get the club where we want it to be financially and to have that sustainability.
"There's a lot of hard work ahead but we want to make sure we've got a competitive budget as possible for next season's team.
"We'll meet with the management team and look at what players he wants to keep, what players he'd like to come in and then work within the budget we have."
For the second successive season Wrexham lost to Luton Town in the Conference play-offs but Roberts is confident the Dragons can get over the disappointment.
"It wasn't the result we obviously hoped for but you have to look over the course of the season and the team have done remarkably well," said Roberts.
"To finish with 98 points and not get promotion, there can't be many teams which have managed that. We just have to go again next year.
"I'm sure the motivation will be there from everybody connected with the club. We've come so close this time we just need to make sure we get it right next time."